Jacqueline Child and Her Labor of Love
She went looking for love and found friendships and a career through the dating app she and her sister created.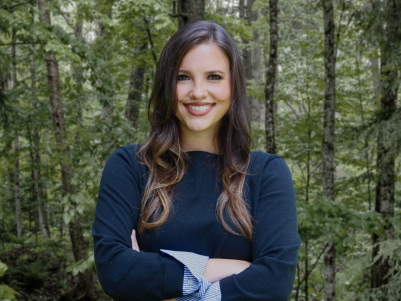 By Mary Anne Dunkin | March 13, 2023

When Colorado native Jacqueline Child began using dating apps, she hoped to find a confidant and partner — maybe even her soul mate. Instead, she got ableist comments like, "You should never have biological children," or that dating her seemed "too burdensome or too stressful," she said. "That happened pretty much over and over again."
At 28, Jacqueline has been diagnosed with rheumatoid arthritis (RA), lupus and several connective tissue diseases. Looking back, she says, she definitely had health problems all of her life, but her first trio of conditions — Ehlers-Danlos syndrome, gastroparesis and dysautonomia — were diagnosed after a severe case of mononucleosis when she was 14.
At the time, she didn't realize how her conditions would affect her future dating life or even her career. But over the decade that followed she found her health conditions and their treatments threatened to derail plans for both a partner and choice of work.
Earning a bachelor's degree in psychology and a master's in family and human development, Jacqueline had plans to become a child life specialist — a professional who helps children and their families cope with the stress and uncertainty of illness, injury, trauma, disability, loss and bereavement — in a children's hospital. "But my health really went downhill so I wasn't able to work," she said.
Although Jacqueline's various conditions through the years have called for different and difficult treatments
—
including a stomach tube and jaw replacement surgery
—
she says two of her most recent diagnoses have been among the hardest to treat. "When I was 22 or 23 I was diagnosed with RA and lupus," she says. "I haven't really been able to find anything to control those two things, so I am just taking it day by day."
The inability to hold a 9-to-5 job along with her disappointment in the online dating scene inspired the creation of Dateability, which Jacqueline believes is the first dating app created by someone with disabilities for users with disabilities and chronic illnesses.
"It was always in the back of my mind that I wanted something like that," Jacqueline says. "My sister really suggested that we make it ourselves, and we took off running."
With the help of an "amazing tech company outside of Boulder," which was able to bring their vision to life, Jacqueline and her sister, Alexa, launched the app in October 2022.
The app, whose motto is "making love accessible," is available on Apple and Android and on computer browsers. Right now, it is free — and there will always be a free version available, Jacqueline says. The sisters would eventually like to sell ads and create a subscription service for added benefits to offset the cost of the app.
For Jacqueline, designing, managing and promoting the app is the perfect blend of fulfilling a need for people with disabilities as well as fulfilling her own need for a meaningful career that can be done at her own pace.
Four months post-launch the app has 2,500 users. "We have started to hear of people who are establishing relationships though the app, which is really exciting," she says.
But is Jacqueline among them? "Ironically I am way too busy to actually date now," she says. "But once we get into a good grove and things wind down a bit, I will actively be on it."
Tune in to our Live Yes! With Arthritis podcast episode on dating with arthritis to hear Jacqueline's and others' dating experiences.
One of the most powerful things you can do to help others living with arthritis is share YOUR story. Your lived experience can help someone feel like they are not alone. Whether you're newly diagnosed or a 20+ year arthritis long-hauler, or maybe you're a caregiver who has a loved one with arthritis, share your Story of Yes.