Student With JA Finds Hope as Junior Advocacy Ambassador and Fundraiser
After her diagnosis of juvenile arthritis, Sydney turned to the Arthritis Foundation and its advocacy efforts to raise awareness and funds to help the greater arthritis community.
By Allison Wilcosky | May 1, 2023
It was easy to blame growing pains for the hip and knee pain Sydney started feeling in second grade, or even the foot pain in sixth. But when she was a freshman in high school, she started to get swelling around her knees and ankles.
"We went to our local orthopedist and it just got labeled as sports injuries every time," says Sydney. "I played tennis, which is pretty hard on the joints, so it made sense. It would go away for a little bit, but then come back. Eventually, I got really bad back pain. I could barely stand up straight. We found a lesion on my sacroiliac joint and that was how we found out it was arthritis."
Sydney was diagnosed with
juvenile idiopathic arthritis
(JIA) in 2021 when she was a junior in high school. After her diagnosis, her mother turned to the Arthritis Foundation when it came to questions around insurance, medications and more. There, she found the
advocacy Junior Ambassador Program
that Sydney was able to connect with.
"It really helped with the mental part of it because no one I knew had the same experiences with arthritis," Sydney explains. "Just knowing that there were other people that knew exactly what I was going through was helpful."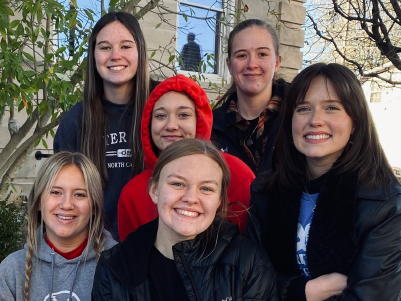 Taking the Lead
Through meeting others in the Junior Ambassador Program, Sydney was inspired to take on a project of her own. Settling on her own 5K run to raise funds for the Arthritis Foundation, she connected with a local race coordinator in Kentucky.
"He got the insurance covered and reserved the racetrack and everything. I was in charge of finding sponsors and getting runners to sign up," she adds. Sydney did monthly and weekly countdowns to the event on Instagram as well as giving out flyers to people at her school and church. Her race coordinator also tapped into his network.
"It was stressful at first because people don't really sign up for it until the day before," says Sydney. "But then once I started getting signups the week before, it was just so cool that people were going to come and I was actually going to be able to raise some money."
Sydney had over 50 runners come to her 5K in November 2022 and ended up raising over $2,500. She hopes to transform the 5K into an annual event. But overwhelmingly, the awareness she helped raise was just as important as the moment she got her diagnosis.
"You don't really realize how much it weighs on you when you're hurting all the time and can't figure it out until you don't hurt anymore," Sydney says. "It was really validating to know that it wasn't random sports injuries. 10 years of just not knowing how to put it into the right words or explain it to doctors or finding answers and then suddenly, we had a name. It was amazing."
Interested in hosting your own unique DIY fundraiser? Get more inspiration.
Stay in the Know. Live in the Yes.
Get involved with the arthritis community. Tell us a little about yourself and, based on your interests, you'll receive emails packed with the latest information and resources to live your best life and connect with others.