Existing Drugs May Be Key to Fighting Treatment-Resistant JA

Arthritis researchers successfully target inflammation-causing proteins in mice, which may lead to new treatments for life-threatening juvenile arthritis symptoms.

By Heidi Bragg | Dec. 20, 2022
With over 100 forms of arthritis, it's impossible for a single medication or therapy to address the unique needs of each patient. For some, over-the-counter medications provide ample relief, while others turn to the latest biologics to combat pain and inflammation. Despite advances in treatments, many arthritis patients spend years trying different combinations of drugs to find even the slightest improvement in their symptoms.
For patients like these, who have trouble getting relief from current therapies, researchers are fighting to find novel ways to treat the pain and inflammation caused by arthritis. They're helping patients like Georgia, a 10-year-old living with a rare form of juvenile arthritis known as
systemic juvenile idiopathic arthritis (sJIA)
. For Georgia, a breakthrough in research could mean the chance for a childhood not marked by pain and hospital visits.
Like many people, Georgia's mom, Sabrina, had no idea that arthritis could affect children. "[Georgia had] high-spiking fevers and general misery," says Sabrina. "She didn't want to eat. She didn't want to move. But the important piece was what we couldn't see — her lab results for inflammatory markers were off the charts."
One of the hardest forms of childhood arthritis to treat,
sJIA
can eventually cause damage to the heart, lungs and liver. This damage is caused by excessive, widespread inflammation that triggers macrophage activation syndrome (MAS) — an overactivation of immune cells that causes unremitting fever, liver and spleen enlargement, abnormal bleeding, central nervous system dysfunction and other potential complications. Kids with sJIA who develop MAS often end up hospitalized multiple times throughout their lives.
Georgia has undergone years of trial and error to keep the inflammation, pain and life-threatening side effects at bay. From high doses of corticosteroids to protein drugs, Georgia's doctors at Boston Children's Hospital — Mary Beth Son, MD, and Pui Lee, MD, PhD, in the Rheumatology Program — continue to work to find the right combination of medications to keep Georgia's symptoms manageable.
"For two years, we could not get things to calm down. But the doctors always had another option to try. I really clung to that," says Sabrina.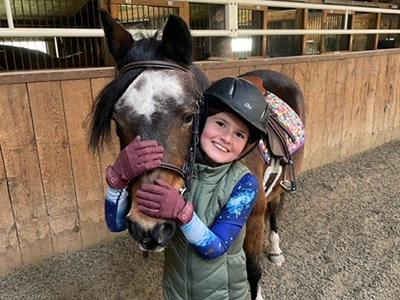 Georgia's doctors have never stopped trying to find the
ideal mix of therapies
to keep symptoms under control. Biologics, which made their way to market nearly a decade ago, have been a breakthrough therapy for many arthritis patients. But up to 30% — including Georgia — don't get full relief from these drugs.
As a researcher, Dr. Lee has not only been involved in helping find a combination of medications that could help bring Georgia some relief, but he's also focused on finding a better option for all kids with sJIA. Dr. Lee, together with Peter Nigrovic, MD, Boston Children's chief of immunology, developed a series of experiments to better understand the overacting inflammation response that is common in kids with sJIA.
While studying mice that produce excess amounts of inflammation, Dr. Lee was able to isolate a complex of proteins at the center of the inflammation. When in excess like they are in kids with sJIA, these proteins — called MTORC1 — caused mice to develop features of both sJIA and MAS.
Using existing drugs approved for fighting cancer and autoimmune diseases, Drs. Lee and Nigrovic were able to block MTORC1 activity in mice, resulting in reduced inflammation and arthritis severity. This breakthrough could eventualead to a new treatment option for hundreds of kids living with widespread, drug-resistant inflammation.
"We use these drugs pretty comfortably, so it wouldn't be far-fetched for us to try them under careful observation when nothing else is working out or when the more expensive biologic drugs are unavailable," says Dr. Nigrovic. "If that's successful, we would need to treat more patients and report the results to build an evidence base. That could possibly spur clinical trials."
Drs. Lee and Nigrovic hope to be able to
study this treatment further and help children
like Georgia with life-threatening complications from sJIA.
"We are so fortunate to live near a pediatric hospital where doctors have seen cases like Georgia's," says Sabrina. "And we're so grateful that there are smart, dedicated people like Dr. Lee studying this disease."
About the Arthritis Foundation:
The Arthritis Foundation is fighting for all people who live with arthritis. As a Champion of Yes, it's the Arthritis Foundation's mission to turn the obstacles arthritis causes into opportunities. The Arthritis Foundation champions life-changing solutions and medical advancements, and it also provides ways for people to connect, break down barriers in health care and join the fight for a cure — uniting hearts, minds and resources to change the future of arthritis. To join the fight to cure arthritis, visit
arthritis.org
.
Stay in the Know. Live in the Yes.
Get involved with the arthritis community. Tell us a little about yourself and, based on your interests, you'll receive emails packed with the latest information and resources to live your best life and connect with others.