Elaine Husni: Determined Rheumatology Detective
This Cleveland Clinic doctor is spearheading an Arthritis Foundation-funded investigation into personalized RA treatments.
By Anthony Williams | May 1, 2023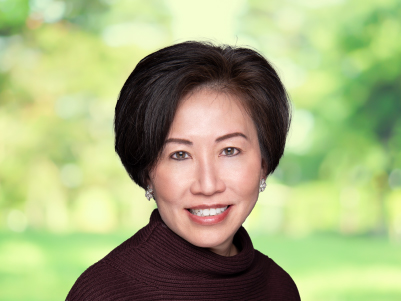 Doing detective work is one of the things Elaine Husni, MD, MPH, enjoys most about her 20-year career as a practicing rheumatologist. During her medical training, she considered specializing in several different disciplines, including obstetrics and gynecology and anesthesia, but rheumatology kept bubbling to the top.
"I think about the chronic nature of the disease, as well as having the ability to be a detective," she says. "Being able to pick up on clues and put them together to solve complex health mysteries, then come up with a diagnosis and a shared-decision treatment plan so that my patients get back to living their best lives. Rheumatology had it all for me."
Today, Dr. Husni is vice chair of the Cleveland Clinic's Department of Rheumatic and Immunologic Diseases. She's also director of its Arthritis and Musculoskeletal Center and Scholtz Family Chair of Translational Functional Medicine Research. Dr. Husni joined the clinic in 2005 after earning her medical degree and her master's degree in public health at Boston University School of Medicine. She completed her internship and residency at the Beth Israel Deaconess Hospital at Harvard Medical School and did her rheumatology fellowship at Brigham and Women's hospital.
Dr. Husni is currently working on investigative projects from three grants: one awarded by the National Institutes of Health and another from the National Psoriasis Foundation, both focused on psoriatic diseases. Her third active grant, for which work got underway recently, comes from the
Arthritis Foundation
. It's part of our
research initiative into "refractory" rheumatoid arthritis
, or cases that haven't responded to multiple treatments.
Personalizing RA Treatments
In this study, Dr. Husni aims to begin defining personalized treatment for
rheumatoid arthritis (RA)
by identifying genetic markers — specific regions of DNA that may differ from one person to another and that predict response or non-response to TNFi. That stands for tumor necrosis factor inhibitors: drugs made of antibodies that block inflammation caused by a reaction in the immune system. For many patients, such drugs work. But for close to half of all RA patients, they don't. And Dr. Husni wants to unravel the mystery.
"My translational research lab here at the (Cleveland Clinic) Lerner Research Institute has identified some genetic differences in the different forms of TNF receptors," she explains. "The gene that's involved in this inflammation in RA may be responsible for, or influence, how somebody responds to a TNF inhibitor. Genetics can affect your treatment response.
"Up to 40% of
RA patients
don't respond to anti-TNF medications, which were among the first biologics that revolutionized the way we could treat patients with inflammatory arthritis."
Dr. Husni says that right now, it's more trial and error. "Wouldn't it be great if we could be more individualized in our care?" she suggests. "I'd like to make the process more strategic, a bit more personalized. That could lead to quicker control of the disease without cycling through so many different medications."
Partnering With the Arthritis Foundation
Dr. Husni credits the Arthritis Foundation for making her a better doctor. She has been interacting with us for 20 years, spanning her involvement in the local leadership board of the Foundation in Ohio, patient education seminars, local
Walk to Cure Arthritis
fundraising events,
advocacy
and other activities.
She is also a valued member of our
Medical and Scientific Advisory Committee
. "The Arthritis Foundation helps empower patients to improve their health. I want the next generation of doctors to get involved with the Foundation, because the organization can touch patients in a way that physicians can't and can help extend our relationship with patients."
"I think the Arthritis Foundation has really done exactly what it set out to do over the past 75 years," she continues. "Driving informed decision-making for patients. It's just a great partnership in the care of arthritis patients."
Another highlight of Dr. Husni's career has been her exposure to research through public health databases. "I love taking care of patients one-on-one in my office. I've also been able to analyze databases for hundreds of thousands of patients — making observations, looking at trends. It made me realize my ability to not only take care of people one-on-one, but to also look at diseases as a whole and help make changes that could potentially affect many more patients all at once."
That kind of detective work is in Dr. Husni's DNA.
Stay in the Know. Live in the Yes.
Get involved with the arthritis community. Tell us a little about yourself and, based on your interests, you'll receive emails packed with the latest information and resources to live your best life and connect with others.