Dr. Michael Parks: Breaking Barriers to Health Care
Michael Parks, MD, believes shared decision-making is one key to overcoming racial and socioeconomic barriers in health care.
By Anthony Williams | Feb. 7, 2023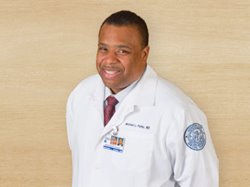 Patients and doctors need to make decisions together for the best results. That's especially true for people who have a history of mistrust in the health care system, as many Black Americans do, says Michael L. Parks, MD, hip and knee surgeon at Hospital for Special Surgery (HSS) in New York City, and professor at Weill Cornell Medical College.
Dr. Parks's research focuses on joint replacement surgery and biomechanical implant retrievals, which involves the wear and damage seen in total joint replacements and their underlying mechanisms, to help advance future treatments. Dr. Parks, who shared his experiences in a
Live Yes! With Arthritis episode
and
Arthritis in the Black Community
, is also particularly interested in racial and socioeconomic disparities in health care. As a member of the Movement is Life Caucus, he advocates in Washington, D.C., to help reduce musculoskeletal health care disparities, and he researches the impact of
race, ethnicity and gender on the care of arthritis patients
.
His and others' research has found that African Americans — especially those from poor communities or who have less education — are more likely to have poor outcomes from surgery and to require additional surgery resulting from complications. Research also has found that Black Americans are less likely to receive knee or hip replacement surgery and less likely to receive pain management than white patients.
That's partly due to providers' inherent biases, poor
communication
and because people in these communities are less likely to seek treatment, Dr. Parks said.
"There's a tremendous legacy of mistreatment of patients that we have to overcome historically in this country. Blood banks 50 years ago were separated by race. We all know about the Tuskegee experiment," he said in the podcast.
"We've done studies where we looked at patients and how their perception of their interaction with the physician was, and many particularly African American patients who are women felt that their complaints were dismissed. So we have to think about that. What are our implicit biases or explicit biases when we're dealing with patients, and hopefully check those at the door and meet the patients where they are so that we can again treat them equitably," he continued.
"Patients need to feel comfortable where they are and with whom they're being taken care of."
That's why it's so important that patients share in decisions about their health with their doctor, he explained.
"The whole concept of shared decision-making is where you give a patient an array of options," he said. "I try to open a dialogue and make the patient feel comfortable with their questions. … My role is to educate them, to tell them where I think they are, to give them my recommendations. And then I always tell them, 'It's between you and that painful joint. It will often make you do something. I can't make you do anything, but I think that's going to lead you forward.'"
Having more
diversity among physicians
who can understand their patients' needs, fears and cultures, is also critical to ensuring all patients receive equitable care, said Dr. Parks, who received the 2019 American Academy of Orthopedic Surgeons Diversity Award. "We need to be able to provide for them and we need to understand them."
Patients must be comfortable with their health care providers and feel that they are being heard. "I just think at the point that you feel that you're not comfortable asking questions and you feel dismissed, then, in my opinion, the relationship is over," Dr. Parks said.