Passionate for Pickleball: Dink for a Cure
Two doctors launch a tournament for fun and fundraising for arthritis.
Reported by Erin Starck | May 3, 2023
When Drs. Tom Rennie and Jane Ayala, rheumatologists with Rheumatology Associates of South Texas in San Antonio, attended their local Arthritis Foundation Top Golf event, they were there to have fun, show support and meet other people who were passionate about raising awareness and support for the arthritis community. The doctors, who also serve on their local Arthritis Foundation board, had no idea it would spark an idea to start their own fundraiser,
Dink for a Cure Pickleball Tournament
. Their first event was in 2022, raising $50,000. This year's event raised even more. Here is what they told us about their experience:
The Idea
"We attended a Top Golf event for the Arthritis Foundation because we have a passion for people living with arthritis. But in all honesty, we didn't really enjoy it. We are not golfers, we are not runners, but we are both passionate about pickleball, so we started to brainstorm and talk about having a pickleball tournament.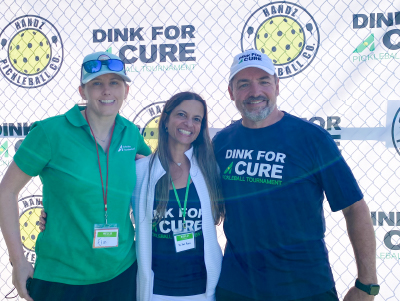 "We didn't know anything about fundraising. And sure, we've participated in the events before, but we've never
planned and organized an event
before. Everyone has a walk, a run, a golf outing. So we said, 'Let's try something different!'
"Because we both enjoy the game and we have a lot of friends who play pickleball, we started with that circle of friends to see if they were interested. Then we reached out to a business we knew to see if they would be willing to donate and underwrite some of the costs to host the event. To our surprise, drumming up support and interest was initially easy, so we decided to register our event on pickleballtournaments.com to accept registrations!
"Our first event was a timed tournament and offered additional day-of-event activities, such as an auction, raffle, T-shirt sales, medals, prizes, drink tickets, a buffet meal, sponsor benefits, swag bags and check-in for about 160 participants and their guests, it took about 30 people to run the day. This year we decided to partner with local food trucks and move to a round-robin tournament style. The timed event was very time-consuming, and we needed volunteers to manage the clock and time for every court. The round-robin format reduced the number of volunteers needed and helped get the 240 players on the courts faster.
Fundraiser Tips From Drs. Rennie and Ayala
It's good to have a team of people helping, because it does require a lot of work. But we also did a lot and went all-in for our first event. We'd recommend a minimum of eight to 10 courts to start. And pick a date when something of significance isn't happening locally (like a festival) or nationally on pickleballtournaments.com to make sure you are not competing with other events.
We are not fundraisers, but you just have to ask and share why you are doing what you are doing. They may say no, but it's always going to be a no if you don't ask. We borrowed sponsorship levels and benefits from the Top Golf event we attended and made some modifications and specific pickleball perks.
"We asked a lot of our business vendor relationships and our own personal connections. Just about everyone we knew, we asked! We also reached out to pickleball companies we've purchased gear from, and we were surprised to receive over $3,000 in gear from pickleball companies for the auction, raffle and prizes.
"The only way this is going to be successful is if you are passionate about pickleball, or whatever your fundraiser is. It would be hard if you didn't know the game or know people who play the game because at the end of the day, they came out to support us, support the arthritis community and do something they enjoy doing in their free time."
The Impact
"Pickleball and arthritis go hand-in-hand. It's an activity that is
low impact
, doesn't require a lot of strength, that you can still do when you have arthritis. You can have joint pain or hip replacements and you can still play pickleball. It's a perfect match."
One of the most powerful things you can do to help others living with arthritis is share YOUR story. Your lived experience can help someone feel like they are not alone. Whether you're newly diagnosed or a 20+ year arthritis long-hauler, or maybe you're a caregiver who has a loved one with arthritis, share your Story of Yes.
Stay in the Know. Live in the Yes.
Get involved with the arthritis community. Tell us a little about yourself and, based on your interests, you'll receive emails packed with the latest information and resources to live your best life and connect with others.