Derek Engfelt: Fostering Community Through Cycling
This California Coast Classic cyclist is a Champion in his community.
By Allison Wilcosky | April 19, 2023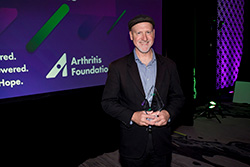 A native to the West Coast, Derek had always wanted to ride his bicycle along the coast of California. It wasn't until 2013 that he was able to accomplish that desire – and help others along the way.
Derek has participated annually in the Arthritis Foundation's annual
California Coast Classic
(CCC) since that first ride. "Once I got to chatting with people along the ride and hearing their stories, especially the stories of kids with juvenile arthritis, which was new to me, I was hooked."
"It was like that movie Forrest Gump," says Derek. "I just felt like, well, why stop now? I just kept going. And I thought that as long as I'm going to do this, I should do the best job I can. My first year riding I raised more than $15,000. Every year after that, I've pretty much gone over and above the preceding year."
Derek is a Lutheran pastor and has engaged his local community and extensive network throughout the world to personally raise more than $275,000 since 2013. In turn, this has motivated other Champions and raised the stakes for CCC Top Fundraisers to aim higher and collectively raise more funds each year.
"I would guess that 90% of the people who donated in any year will donate again. I just have to find that extra 10% each year to be able to match what I did previously – and hopefully gain a few others," says Derek.
"My reason for doing this is for others. It's not about me. And I think that that can be an encouraging, positive and persuasive appeal to potential donors."
In 2023, Derek received the Champion Award for his efforts in the CCC.
An Encouraging Community
Derek has found support in his team, fellow riders and volunteers. "It's a very supportive community. Right around 50% of the riders are veterans – those who have participated in the ride before. And for many of those, it's not just their second year. It's been many years. There is friendly competition to spur others on. But the final word is: we're all on the same team.
"We encourage each other along the way," says Derek. "All riders have numbers on the back of our bikes – and our names, as well. So, as you're riding along, coming up alongside someone, you can encourage them: 'Hey, Maria, good job!' Or somebody will encourage you, as they pass you. It's a community of mutual encouragement."
Time to Reflect
At the end of the first day of the CCC, Derek is often picked up by his wife and taken home to deliver his weekly sermon to his congregation in Saratoga the following morning. He then picks up in Santa Cruz later that afternoon, beginning the 51-mile ride hours behind the pack and without support. "All the signs have been taken down, all the rest areas have been vacated," says Derek. "I have a route map, of course, that tells me where to go, but I'm pretty much on my own. I check in with the team along the way. They've always been so supportive."
He typically completes the steep climb into the base camp in Monterey on Sunday evening just in time to participate in our Champions Club Ceremony during the nightly program.
"Others have offered to stay back and ride with me," says Derek. "But for me, it's my first day of real vacation. It's a time to unwind and to reflect."
"When I get to the ocean at Sand Beach – just north of Monterey – I'm within 10 miles of the finish for the day. It's a great place to stop and take a photo. And, for me, it is the epitome of refreshment."
One of the most powerful things you can do to help others living with arthritis is share YOUR story. Your lived experience can help someone feel like they are not alone. Whether you're newly diagnosed or a 20+ year arthritis long-hauler, or maybe you're a caregiver who has a loved one with arthritis, share your Story of Yes.
Stay in the Know. Live in the Yes.
Get involved with the arthritis community. Tell us a little about yourself and, based on your interests, you'll receive emails packed with the latest information and resources to live your best life and connect with others.