Here's the Scoop: A Polish Soup Fundraiser
Barbara Osen puts her passion into supporting Arthritis Foundation's research program.
By Marlena Reed | Jan. 12, 2023
When Barbara Osen left her position as director of an Arthritis Foundation field office after 25 years, she longed for a way to continue supporting the arthritis community as a volunteer. Because of her professional experience, she understands the importance of the
research
the Foundation funds, so she decided to
fundraise
.
"During my tenure as staff, I witnessed development of biologics as a treatment for rheumatoid and other inflammatory arthritis and how dramatically it improved people's lives. I have also witnessed (as well as experienced) progress made in orthopedic surgery and joint replacement."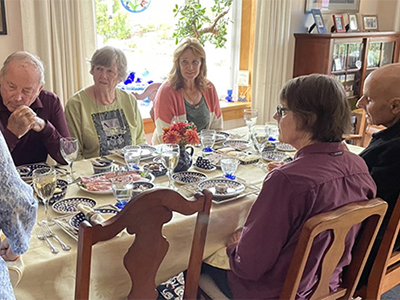 Inspired by the story of an elegant dinner party fundraiser supporting the Metropolitan Opera, Barbara decided to host a luncheon featuring some of her favorite Polish soups and delicacies, served on her collection of beautiful pottery and bone china in a variety of colors and patterns.
Fundraiser Facts
"My fundraiser was pretty simple," says Barbara. "For a $100 donation to the Arthritis Foundation, each guest received a Polish pottery bowl and all-you-can-eat of Polish Vegetable Borscht (aka Ukrainian Borscht), Polish Dill Pickle Soup and Harvest Pork Stew. I also served assorted Polish sausages, breads and desserts." Guests also were invited to take home leftovers.
Leaving no fundraising stone unturned, Barbara also sold Polish food related items before the luncheon, like Polish dill pickles, a soup recipe, her special seasoning mixes and custom microwave-safe pads and pot holders.
The Impact
Barbara's fundraiser has become a tradition among her family and friends. "Food is a fun way to bring people together, share stories, laugh and connect with others, while raising awareness about our cause and fundraise," she says.
Interested in hosting your own unique DIY fundraiser?
Get more inspiration
.
Stay in the Know. Live in the Yes.
Get involved with the arthritis community. Tell us a little about yourself and, based on your interests, you'll receive emails packed with the latest information and resources to live your best life and connect with others.