Arthritis Foundation Champion Scholarships Awarded for 2022-23
Our latest scholarship awards recognize 20 deserving students in their academic pursuits. They represent the "best of the best" among youth conquering the challenges of arthritis and related conditions — and becoming tomorrow's top leaders.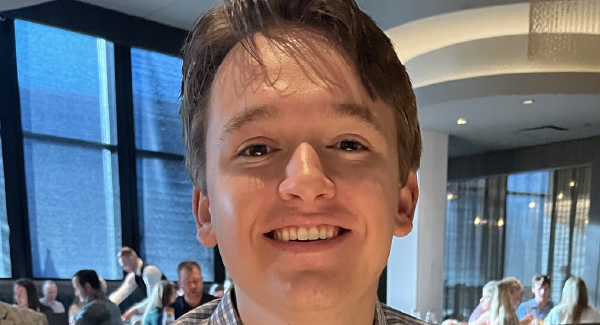 The Arthritis Foundation salutes the young and rising stars in the arthritis community who are committed to carrying our torch forward. Every year, we award $5,000 in college scholarships to deserving students who have arthritis or a related rheumatic disease.
Recipients are considered based on their arthritis challenges and achievements, their impact on the arthritis community and their educational and professional goals. They serve as positive role models and leaders. And they live their best life while empowering others to do the same.
We considered 122 applications for the 2022-23 Arthritis Champions Scholarships program. It was tough to decide among those inspiring young people. Ultimately, we selected 12 scholarship recipients who previously received our scholarship awards and eight new recipients.
Andrew Butscher of Colorado, who recently turned 21, receives our Ann Palmer Award, a designation in honor of the Arthritis Foundation's president and CEO from 2013 until her retirement this past January. Ann has a strong affinity for juvenile arthritis (JA) families and the Foundation's initiatives on their behalf.
Andy received the Ann Palmer Award by scoring the highest points for explaining, in the essay he submitted with his application, his involvement with the arthritis community. He also received two prior scholarships from the Arthritis Foundation. Andy exemplifies the fortitude of youth who are dedicated to changing the future of arthritis today and paving the way to a brighter future for generations ahead.
Andy was diagnosed with juvenile idiopathic arthritis at 18 months old. He has a long history of volunteering for the Arthritis Foundation, along with the rest of his family. "My parents got involved with the Foundation when I was a little kid," he says. "So, I grew up with the Foundation and volunteering. It's just kind of second nature for me."
Over the years, Andy has attended several National JA Conferences, was a JA camper and is a current camp counselor; he's also been very involved in his local Walk to Cure Arthritis and is a committed Arthritis Advocate.
"The Arthritis Foundation was a huge part of my childhood — and a huge part of who I am, even today," says Andy, who's younger sister also battles childhood arthritis. "The Foundation helped me make some of my closest friends and learn about my condition."
Currently in remission, Andy says his JA has led to extensive joint damage in his knees and ankles. "I will be in pain for the rest of my life," he acknowledges. "I have to limit my activities. I have to figure out my daily schedule of classes, studying and social life. I also have to plan every day to manage my pain."
"The toll of dealing with arthritis can be monumental and feel suffocating. Because arthritis is an invisible illness, dealing with it can feel very isolating," he says. "I was very lucky to have support and would not be where I am today without the help of the arthritis community."
Today, Andy is a junior studying aeronautical and astronautical engineering at Purdue University. "Engineering stood out so profoundly to me because, at its core, engineering is the ability to find a new and innovative answer to a problem. I felt experienced in this as I had watched my doctors do the exact same thing for me my entire life.
"I am very passionate about the space industry and see it as a measure of humanity's success. Research into spaceflight continuously improves the world, especially as more and more of our everyday lives revolve around our data being accessible quickly and from anywhere."
The 2022-23 Arthritis Champions Scholarship program is funded by the Walter J. and Kathryn M. Winterhoff Endowed Scholarship Fund, Dr. Smriti Bardhan College Scholarship Fund and Alpha Omicron Pi. Between 2010 and 2022, this program has supported dozens of college students through a total of $845,000 in awards.
Scholarship reviewers include members of the Arthritis Foundation's national and local leadership boards, higher education experts, health care providers and past scholarship recipients. The selection process is blind, so applications are reviewed anonymously.
Applications for 2023-24 scholarships will be accepted beginning in January 2023. For any questions about the Arthritis Champions Scholarship program, email [email protected].
Stay in the Know. Live in the Yes.
Get involved with the arthritis community. Tell us a little about yourself and, based on your interests, you'll receive emails packed with the latest information and resources to live your best life and connect with others.