ShaRae Mansfield vividly remembers getting the call 17 years ago saying the Houston Comets had drafted her to play in the Women's National Basketball Association (WNBA). For the Western Kentucky University (WKU) student, the chance to play professional basketball was a dream come true.
But her WNBA career was short-lived. While she had mad skills on the court, excelling at both points and rebounds, she also had frequent pain in her shoulders, hips and especially her left knee, made worse by a torn anterior cruciate ligament (ACL). ShaRae had undergone six surgeries on it, but her continued knee problems led the Comets to release her before she completed even her first season.
Disappointed, the Louisville, Kentucky, native ventured overseas, playing basketball for a few months in Israel. But her pain and stiffness took such a toll physically and emotionally that she made the tough decision to retire from playing basketball.
Adjusting to life without sports also proved difficult, and ShaRae found herself struggling with depression.
"I had identified for so many years as a basketball player and athlete that I wasn't sure what to do next," she says.
To cope, she focused on finishing her college degree, with plans to pursue a career helping others. She graduated in 2005, and her oldest daughter was born the following year.
Answers, At Last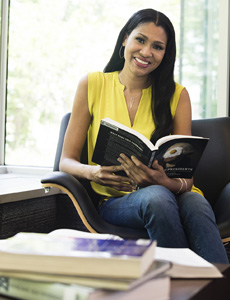 It wasn't until 2011, after ShaRae became seriously ill, that she learned the cause of the joint pain and stiffness that had plagued her for years.
"I had a horrible cough I couldn't seem to shake, and my doctor gave me several courses of antibiotics, thinking I had bronchitis," she says. "But I didn't get better."
Four months later, she had pain in her lungs and knees, her right foot was severely swollen and her neck was so stiff that she couldn't drive. She landed in a hospital where, after a raft of tests, she was finally diagnosed with 
rheumatoid arthritis (RA)
. Soon after starting prednisone, she was able to walk without crutches.
At the age of 31, ShaRae finally had answers to what had been causing the joint pain and stiffness she had been coping with since she was a child.
"My athletic trainers always chalked up my aches and pains to the rigor of basketball," she says. "I didn't have that level of pain all the time, but looking back, I realize I was having RA flares."
In 2012, she was pleased to be asked to serve as assistant basketball coach at WKU, and the following year as director of basketball operations. She also began studying for her master's degree in Industrial and Organizational Psychology. But her RA wasn't controlled and traveling with the team proved difficult. She was on crutches and having side effects from the biologic she was taking. In 2013, she resigned.
"Wonder Woman"
In college, a reporter once asked ShaRae what superhero she would want to be. "Wonder Woman," she had replied, "because she can overcome any obstacle."
Some would argue that she's living up to that standard. Now nearly 40 and the mother of three girls, ages 2, 8 and 12, she has juggled her career and studies with parenthood and expects to graduate this fall with a PhD from the Chicago School of Professional Psychology. Last year, she was inducted into the WKU Athletic Hall of Fame.
She plans to help other athletes transition into careers outside of sports through career coaching.
"Research shows that college and professional athletes go through tremendous psychological processes when their athletic careers end," ShaRae says. "My goal is to work with athletes and help them find a rewarding career that will replace the void in their life that comes after identifying as an athlete for many years."
ShaRae had a total
knee replacement
last year, and she exercises regularly, including walking and lifting light weights. Her RA still isn't controlled, but she and her rheumatologist are working together to find the right medications.
"Having a doctor who I can talk with and who works with me on a plan to manage my RA has been invaluable," ShaRae says.
And she's helping others. She gives motivational talks to middle and high school athletes, and she maintains a support group on Facebook, Beautiful Warriors, for women with chronic conditions.
"I've learned that RA doesn't control me," she says, "and I've built a life after athletics and can now help others do the same."
Author: Linda ChildersPhoto Credit: Kaylinn Gilstrap
Related Resources: