Volunteer Cindy Senk shares her perspective and wisdom on Connecting & Staying Active Virtually in the Live Yes! With Arthritis Podcast.
My name is Cindy Senk. I've been living with osteoarthritis and Sjogren's syndrome for the past 48 years.  I have been involved with the Arthritis Foundation in many ways over the past 20 years. I serve on the local leadership board in my home state of Massachusetts. I'm a Facilitator of my local Connect Group. And I'm even a certified Walk with Ease Instructor, Aquatics and Exercise Instructor. Throughout this challenging time of social distancing due to the coronavirus, one of my goals is to help people Live Yes by encouraging them to stay active from the comfort of their home.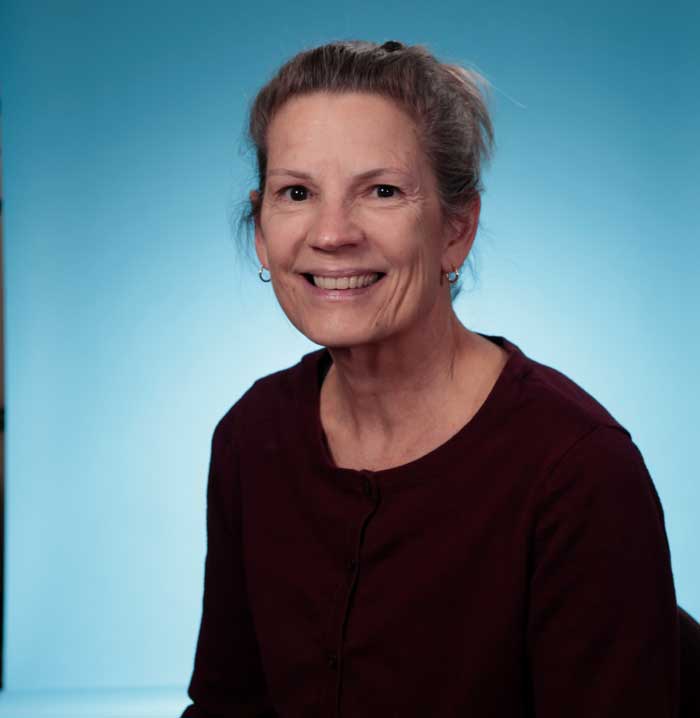 I have a passion for teaching and fitness. My 35-year career has been focused on helping people with chronic illness and injury lead happy, productive and independent lives. As a certified personal trainer, group exercise instructor and yoga teacher, much of my time is spent teaching and encouraging people face-to-face. With the social distancing required to help stop the spread of COVID-19, my work has changed dramatically, my college class started to meet virtually, and my regular yoga and exercises classes stopped meeting at all. Throughout all the change, I just kept asking myself, "how can I be of service to others?"
For me, it was movement. I knew that I had something to offer by teaching people how to stay active at home. I began making (very amateur) movement videos, filmed on my phone and computer. At first my audience was small, I simply shared them with friends who requested them. But soon I realized that this kind of resource was needed beyond my small group of friends.
With a growing distribution list, it became cumbersome to email everyone my videos. So, I decided to use YouTube as a platform for sharing. This was completely new technology to me – and it was intimidating to get started.  I was very nervous about making my videos public. But I soon realized this was not about me, that people needed safe and effective options to keep moving at no cost to them. So, I dove in!
My videos have been especially well received by people in our arthritis community – I know how difficult it can be to get and stay active when your joints are flaring. So I made sure to post several joint friendly videos, like chair and mat yoga courses with modifications and even some exercise classes as well, all using materials that you can find within your own home.
Click here to watch one of my arthritis friendly chair yoga classes.
[caption id="attachment_1884" align="alignleft" width="201"]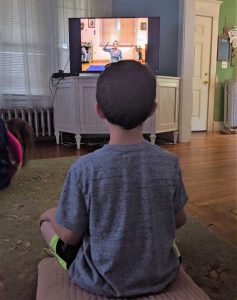 Cindy's grandson, 8 years old, practices yoga with her virtually by watching her videos.[/caption]
And while getting started recording my videos was scary, I realized that during these uncertain times people are not looking for perfection – they are looking for connection. And if my videos can offer them that support while encouraging them to stay moving, then I know I am being of service. Now I am making two new videos per week in my kitchen!
The response has been overwhelming. People are so appreciative. I get back so much more than I give. One of my most fun video projects was for my daughter, a first-grade teacher, who has asked that I make a video to share with her parents and their children so they can practice yoga together at home. My 8-year-old grandson and I will be filming that one together.
I am so happy that I found a way to still be of service during these trying times, its one way that I can Live Yes! I encourage all of you to do the same. We all have gifts that can help us stay connected to each other - ask yourself what gifts you can share. We all have special gifts that need to be shared for the common good. Please share your light with others, and as you do post about your experience on social media using the #WeLiveYes.
Listen now to the Live Yes! With Arthritis Podcast to hear more from Cindy Senk on Connecting and Staying Active Virtually. 
Do you have tips you'd like to share with the arthritis community about how you are living yes during this difficult time? Join the
Live Yes Arthritis Network
and share your advice, ask questions and provide ideas about ways to stay connect during social distancing -
Cindy Senk, M. ED Rehabilitation - Connect Group Facilitator - ACSM-PFT; RYT-200 – Owner of Movement for ALL
Tune in on the Arthritis Foundation's Instagram, Wednesday April 9th at 7pm for a live virtual chair yoga class taught by Cindy!