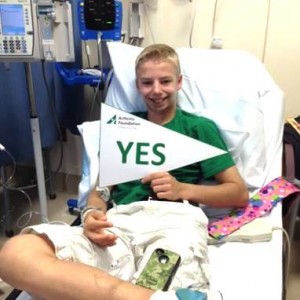 Arthritis, especially when it affects children, can result in having to say No to many, many things. Just getting out of bed can be a challenge, let alone battling big insurance or pharmaceutical companies to gain access to care that's needed to manage the disease. While we do all we can to help increase the number of everyday victories, there are times when big victories are achieved in the lives of those with arthritis. And when they are, we celebrate them.
Just this past month, after a three-year-long fight, Zane Breier, who suffers from scleroderma morphea, achieved one of these victories. Last year, in the middle of his fight, Zane was our Youth Honoree for the Jingle Bell Run event in San Diego, helping raise awareness, support and funds for our collective fight against arthritis. At the same time, his condition was rapidly declining and began to spread and affect more areas of his body. Plastic surgery became a consideration, as Zane's face, tongue and eyes were affected by his disease. He had to have gum grafts, and he and his family began to lose hope. The fight became tiring and the obstacles felt insurmountable.
Zane's doctor, pediatric rheumatologist Dr. Johanna Chang at Rady's Children's Hospital, prescribed Orencia for Zane, but his health insurance provider denied coverage. Their claim was that Orencia was not indicated for children and no "testing" had been done on children.  Still Dr. Chang continued to fight on Zane's behalf, submitting documentation to show that Orencia had been of benefit to other children. But Zane and his family were denied again.
While it was first anticipated that Zane would only need to be on the medication for 6 months or less, that forecast turned into a year or more, and without insurance coverage of his medication, his family of five could not afford to absorb that cost.
The Arthritis Foundation helped the family tap into other resources for help, and the rejections continued. Despite the hurdles, we and the Breier family didn't give up. We continued to press Zane's insurance provider to conduct a review of his case and reconsider coverage. The team at Zane's hospital also reached out to his provider, informing them that, if denied coverage for Orencia, there was nothing else the hospital could do to help slow the progression of Zane's disease.
While at the Jingle Bell Run, Zane met CA State Senator Joel Anderson, who already knew much about the boy's story. Sen. Anderson stepped up as a Champion of Yes on Zane's behalf, working within and outside the system to fight for Zane so he can live a life free of suffering. Sen. Anderson also gathered the support of Rep. Duncan Hunter, who had worked directly with Zane's insurance provider in the past on matters relating to the care of veterans.
After the tireless efforts of our Arthritis Foundation staff, government officials, hospital staff, and others, finally, there was a breakthrough. Zane was asked to speak on behalf of the Arthritis Foundation at an event for CVS/specialty in San Diego to discuss his disease. As he began to elaborate on his trials and tribulations in getting the care he needs, the crowd and the team from CVS/specialty knew something needed to change. CVS/specialty brought Orencia to San Diego through the CVS/specialty pharmacy and then through their infusion group. After much discussion and several more attempts to work around barriers, CVS/specialty was able to set the medication up with Rady's and the infusion date was finally set. When Zane was told that the infusion was finally going to happen, his first reply was, "Yes!" As his mother puts it, the response was "so loud you would have thought he'd just won a million dollars."
Zane's case is not unique. There are thousands, if not millions, of people with arthritis who face similar circumstances and denials to coverage on a daily basis. We hope that, through our efforts, we are able to change the tide in the world of arthritis. We want to chart a winning course for people with arthritis and their access to care. We want our collective fight for more Yes moments to result in victories like Zane's, rather than fighting individual and difficult battles daily. Let's band together for Yes. Children like Zane and people with arthritis across the country shouldn't have to fight so hard just to feel better.