Sachi Arya is a Chronic Strength Champion, which means he doesn't just take control of his pain — he battles back. Read to learn how Sachi has found ways to overcome his osteoarthritis.
I couldn't believe my ears when I heard the doctor say it. "You have osteoarthritis."
At the time, I was 43. Sure, I didn't exercise regularly and didn't think much about joint health, but I thought I was too young to be diagnosed with arthritis. Even though I had severe knee pain and could barely climb the stairs, I was sure it had to be something other than arthritis. And to make things worse, I also was diagnosed with osteopenia and osteoporosis. The odds were against me.
But getting my diagnosis wasn't the most painful experience. When I was told, "No need to worry, you're not climbing mountains, anyway," that hurt more than anything.
I thought: Why should I accept what has been given to me? That's when I decided I would turn my life around and become someone I never thought possible. I knew I was going to climb mountains. And in recent years, I've climbed more than two dozen of them. Now, I'm getting ready to scale one of the most prominent peaks on Earth.
Making changes and setting goals
To start navigating this new world, I gathered any information I could get my hands on. From the start, the Arthritis Foundation has been a huge source of support for me to help learn more about my condition. I frequently head to
arthritis.org
to access resources like exercise videos and expert-written articles to learn what I can do to manage my pain and advocate for myself. I also got involved in the Foundation by joining its local San Antonio chapter, where I'm now a board member, to have the emotional support of others who are going through similar challenges.
And I made major lifestyle changes: I set up a gym in my basement, started doing physical therapy and focused on stretching. I set up short-term goals for myself. One was to make sure I didn't fall; another was to be able to pick things up from the floor without asking my kids for help. I find that these small-step goals can help make a big difference.
Since goal setting has worked so well for me, I'm happy I now have the
Vim app
: It allows me to set goals and track my progress, along with helping me manage my pain. I also like how the app is made up of a community of people who are just like me, gearing up to tackle similar things. And unlike the way some social networking apps can be, this app is real and authentic: It reflects the realities of the pain people experience on a daily basis.
Climbing mountains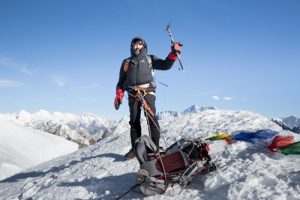 In a few years, my goals got bigger and bigger. It's my way of fighting back. After a good warmup, I can now do a squat with 155 lbs. on my barbell. That's what keeps me motivated. It's painful, but if I'm not able to take that pain during a workout, how can I handle a climb?
In the past six years, I've climbed 25 mountains. I started small with less rigorous peaks in Colorado, but soon enough I was climbing Mt. Rainier and then Mt. Everest Base Camp. Then in late 2019, I climbed Nepal's Mera Peak, my biggest climb yet with an elevation of 21,247 feet.
Along my journey, I've learned what I can do to ease my pain while climbing: I wear a compression sleeve for my calves and knees, and I've gotten custom-made insoles for my shoes to help with realignment. At the end of the day, what helped most was the dedication of working out six days a week, every week.
Summer 2021's challenge is to climb Mt. Kilimanjaro, with an Arthritis Foundation flag in hand. I set up a plan for Mt. Kilimanjaro five months in advance, and every day I work toward that goal.
In the back of my mind while I'm climbing are the voices that told me I'd never climb mountains and that I'd eventually need a total knee replacement. One of the greatest rewards in all of this has been inspiring friends and family to hike and learn to be active. At the end of the day, if I can motivate just one other person to live a fuller life, I've reached another goal.
It's easy to create a
Do-It-Yourself (DIY) fundraiser
like I have. If you're committed to this cause like I am, set up your own event, whatever your passion is. You'll be making a world of difference for yourself and so many others.