Three orthopedic surgeons share their plans to ride the California Coast Classic Bike Tour in support of their patients.
The Arthritis Foundation's premier cycling event is switching gears this year. For the first time, the California Coast Classic Bike Tour will be run as an all-remote ride. The newly minted event, dubbed the
Remote Ride X CCC Challenge
(RR X CCC), was created to be flexible and accessible, and in future years, will be run in parallel with the traditional in-person tour down Pacific ­­Coast Highway from San Francisco to Los Angeles.
Presented by Amgen, the RR X CCC has no registration fee and will run from October 3 to November 1, allowing riders to log their miles over 30 days. While riders won't be pedaling down the California Coast together in person, they will still have the opportunity to ride together as a CCC Community — connected as always — and sharing their efforts virtually along the way.
"Our new remote ride will provide a safe and accessible way for our CCC riders to continue this great tradition, while raising awareness and vital funds for invaluable research and resources that aid the arthritis community," says the event's organizer, Shannon Marang Cox, associate executive director, Arthritis Foundation, Los Angeles. "Our hope, during these difficult times, is that the remote ride will appeal to both veteran and new riders alike and keep everyone pedaling for the cause."
In fact, the accessibility of the remote ride is attracting many new riders. We recently talked to three CCC newbies — all orthopedic surgeons — who shared their inspiration and plans for the RR X CCC: Bradley Graw, MD, Sutter Health in Palo Alto; Monti Khatod, MD, Kaiser Permanente in West Los Angeles; and Gregory Heinen, MD, California Sports and Cartilage Institute in Arcadia.
Q: What compelled you to sign up for the California Coast Classic?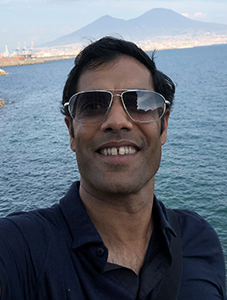 Dr. Khatod:
I purchased a bike years ago with the goal of riding from San Francisco to Los Angeles on my 50th birthday. Just like my values, which combined to lead me to orthopedic surgery, my lifetime of caring for arthritis patients, combined with my desire to make this wonderful journey, led me to the California Coast Classic. Once I discovered the ride, I have been extremely excited to join the team. Riding is what we love. The Arthritis Foundation and raising money for arthritis research is a blessing that allows us to bring good to what we love. It's an easy sell.
Q: Do you have to be a serious cyclist or have previous riding experience?

Dr. Heinen:
This challenge was outside my wheelhouse. I have always supported arthritis research; however, I have never ridden seriously and had to buy a bike. The CCC was a bucket list journey for me! Now I suspect that I am hooked.
Q: Now that the ride is fully remote, how do you plan to cover the miles?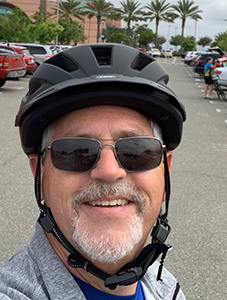 Dr. Heinen:
I was definitely counting on the camaraderie of other riders to carry me through. That being said, I have reached out for motivation from members of my team and other teams who have been very gracious. In doing so, I have opened the doors to a myriad of new bicycling treks, which I otherwise would not have done. Smaller groups are getting together, masked and keeping distance, but remaining motivated, and this is inspiring. I plan to utilize most of the month of October to make my miles. To start, I plan to do multiple riverside trails that lead from the foothills to the beach — a perfect 80-mile round trip for me with some rolling hills to ride and a solid goal to reach each time. My plan is to try to ride each one of these trails during October. With any luck, my final ride will be with a couple of other Arthritis Foundation riders and ride the last leg of the CCC.
Q: Are you doing anything unique to make the ride special?Dr. Graw:
I'm going to make it special by riding half of the miles in Northern California, and half in Southern California. One reason I decided to do this ride is that my wife and I are apart for six months as she finishes a surgical fellowship in Los Angeles, while we live permanently in the San Francisco Bay area. I'm going to spend the time I had booked for the event down in Los Angeles with her and our son.
Q: What encouragement would you offer those on the fence about doing the ride or supporting the Arthritis Foundation — especially during the pandemic?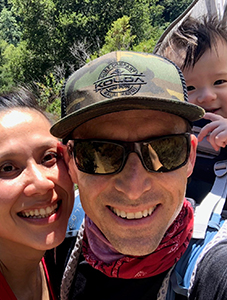 Dr. Graw:
Despite the pandemic, as a joint replacement surgeon we have been extremely busy in the operating room all summer. I've taken care of a backlog of surgeries since March and about 100 major surgeries this summer. People continue to suffer from joint pain and dysfunction, which has been having a serious impact on their sense of well-being. While the pandemic deserves significant mind share at this point, the importance of motion and the problem of arthritis continues. Please support the Foundation!
Q: What message do you hope to send to your patients by participating?Dr. Khatod:
Arthritis is a difficult and disabling disease that relentlessly erodes one's independence and mobility. Going out and living in the face of this disease is one of the most inspiring acts my patients can do. I encourage them to not live their lives as someone with a disability, and when treated with medications, injections and surgery, I hope to keep them abled and independent.
Q: Why do you think it's important to support nonprofits like the Arthritis Foundation now more than ever?Dr. Heinen:
Societal issues, like arthritis, never sleep. Optimizing care and pursuing a cure requires tenacity measured in decades and recognizes that persistent small steps lead to great gains. It is especially important during overwhelming times, such as the coronavirus, that we cannot compromise research into the long-term problems that disable many more people, over many generations. We must not forget to think long term.
It's not too late to
sign up and join the Remote Ride X CCC Challenge
. Have fun while raising funds — and awareness — to support life-changing resources and research for the 54 million Americans living with arthritis.