Reesa Partida grasps and loops a dangling swath of fabric, places her foot against it and lithely climbs up before swooping into an aerobatic dance of twists, splits and perfectly pointed toes – a demonstration of grace and strength. "I think I was inspired by Cirque du Soleil," Reesa says with a laugh. "I thought it looked like a lot of fun, so I started by taking a class three and a half years ago."
Performing these ballet-like dances while hanging from streams of fabric – called aerial silks – is a hobby she took up about a year after she was diagnosed with rheumatoid arthritis (RA).
Her other hobbies? Running in 50K races and competing in half Ironman triathlons (1.2-mile swim, 56-mile bike and 13.1-mile run). Her professional life seems just slightly less grueling – teaching dance and musical theater at Van Nuys High School in California.
Unexpected Setback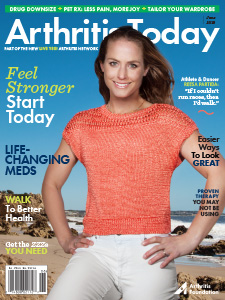 Reesa was 3 when she began gymnastics classes and 9 when she ran her first triathlon – inspired by her mom, Lora Zagnoli, a seasoned athlete – and she has just kept going. Along the way, she sustained a fair share of bumps and bruises. But in January 2014, when her hand and wrist swelled so she couldn't even hold a fork or turn a key, she was alarmed. But then it went away.
Over the next few months, milder pain and swelling came and went. "Since I had just begun student teaching, I couldn't take time off work," Reesa says. In June, she was training for a trail race, but her feet were swollen. "I needed to get it checked out before running seven hours," she says, so she saw a doctor at a walk-in clinic. "I remember his face. He looked at my feet and said that it might be something systemic."
A rheumatologist confirmed it: Reesa has rheumatoid arthritis (RA). "I remember calling my boyfriend [now husband], Stephen, and crying. It was heartbreaking to think of living a life where I couldn't be active – but I told myself that if the day came when I couldn't run races, then I'd walk."
Her doctor reassured her that staying active was not only possible but was a way to manage RA symptoms. But she wasn't able to run as fast or as far as she had before. "I felt like I was hobbling," Reesa recalls, and she skipped that race. She started taking a corticosteroid – and the following month, she danced with Stephen at their wedding.
The Right Treatment

Friends encouraged her to try various herbal remedies, supplements and other "natural" treatments, but Reesa did some research, listened to her doctor and started methotrexate.
"I looked into a couple other things, but nothing seemed worth trying over listening to my doctor," she says. "I started methotrexate four years ago in August and am still on it because it works for me. It's allowed me to continue teaching dance and to pursue my passions."
Reesa, 30, occasionally experiences flares in her wrist, especially when she does floorwork in modern dance, but they usually last only a couple of days. "There are days that I feel very fatigued," she admits. "Not just tired, but a relentless fatigue that I have to work hard to push past." Still, on most days, Reesa runs eight and a half miles – eight to 20 miles on weekends, often with her mom – to train for foot races and triathlons.
Passion Pays Off

Reesa knows that stress can trigger flares, but dancing and aerial silks help her relax. And, she adds, "My overall faith in God has helped me through it." But sometimes stress is unplanned and unavoidable. In November, the home she and Stephen were renting was destroyed in the Woolsey Fire, a wildfire that burned almost 100,000 acres in Southern California. Her students and the school community quickly rallied and started a GoFundMe fundraiser for them.
She's close to her students, partly as a result of the many hours rehearsing together. Dancing is not just physically demanding, she explains. "To perform well, you have to tap into your emotions, so we build a pretty strong bond over that."
Her class is a safe space where students can have discussions without judgment. "I'm very open with my students about my RA," Reesa says. "I had a student in class recently who had just been diagnosed with psoriatic arthritis. [He and I] talked about his diagnosis and how the condition doesn't have to define you." If he needs proof, he only needs to look as far as his teacher.
Related Resources: