"I don't know anyone with arthritis."
This is the most common answer we heard when we recently asked Americans: How many people do you know who are living with arthritis ?
Ten years ago, Raquel Masco didn't think she knew anyone with arthritis either. That's when she began experiencing unusual symptoms.
Searching for Answers
"First, something happened to my skin. Then, my hair fell out. I had trouble swallowing. I thought maybe it was allergies, maybe it was just from being active. Then I started feeling tingling in the bottoms of my feet, my hands and pain in my back and legs.
"I come from a family of strong women where you just keep going. If you're in the hospital on a Monday, you come home and mow the lawn on Tuesday. Nobody knew I was in pain. But I couldn't physically get out of bed. It started to affect my job. I'm a hands-on mom, and it was hard for me to keep that up."
Raquel remembers being "poked and prodded" so many times by so many doctors who said nothing was wrong with her. It wasn't until she was in a serious car accident that she learned she'd been living with arthritis for more than a decade.
"I got rear-ended by an 18-wheeler sitting at a red light. I had to have an MRI, and it showed I had osteoarthritis."
Finding a Community of Support
Connecting with people
who have been through a similar journey has been transformative for Raquel.
"Finding the Arthritis Foundation was a blessing with a community of people who understood."
Once Raquel started sharing the story of her diagnosis and living with arthritis, she said other people started coming out and sharing their arthritis story — including friends she'd known for years.
"Others walking through this same journey know what I'm going through and understand. Hearing the treatment that helped others, going to conferences and knowing what to talk to my doctor about is invaluable."
Today, Raquel runs a nonprofit organization in Texas dedicated to empowering single mothers to live above and beyond their own expectations so they can thrive in every area of their lives. When she's not working or volunteering for the Arthritis Foundation, she enjoys acting. She acts, writes and directs in a community theater and recently started her own production company to create more inclusive productions, including elevating people with disabilities.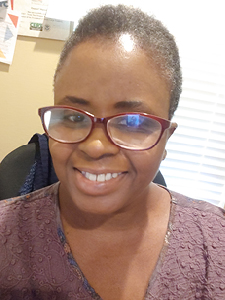 "Being an arthritis warrior means taking the best care of myself, fighting for my best life, and then helping fight for others who may not be able to speak up," she says. "I fight for the Arthritis Foundation because they care about people who are living with arthritis, and I'm doing everything in my power to make an impact for a cure."
Want to stay up to date on all the exciting activities this month?
Sign up to receive updates
from the Arthritis Foundation. You don't want to miss the stories and myths we'll be busting next.
Related Resources: