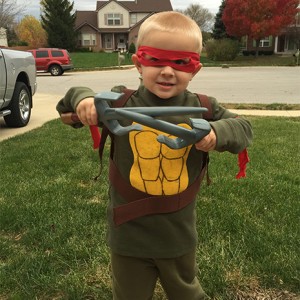 By most accounts, Carson is a typical three-year-old boy. His room is decorated with superheroes. He can't get enough of the Teenage Mutant Ninja Turtles. He's counting down to his fourth birthday. He loves to color. Trucks and dinosaurs are frequent playmates. But there's one way -- and it's a big one -- that Carson isn't typical at all. He has
juvenile arthritis (JA)
.
Though it took several months, Carson received his official diagnosis of polyarticular juvenile arthritis, meaning it affects five or more joints, when he was just 15 months old. His mother, Chrissy, suspects he had been in pain for much longer.
"Looking back, it makes sense," recalls Chrissy. "He was always a pretty cranky baby. He would lay on the ground pulling at his legs. We'd change him into a different pair of pants or change his diaper to figure out what was making him so uncomfortable. Nothing worked."
As Carson hit his milestones, walking provided an important clue.
"As he started walking, it looked like he was limping," Chrissy says. "He would pull up, and he seemed to favor one leg. I was with him all day, so I didn't notice it as much, but when we went to visit family for the holidays, it really stood out to them. They kept asking, 'Is he limping?'"
Visits to their pediatrician provided little relief. With no diagnosis, he endured rounds of steroids, antibiotics and the all too common suggestion of growing pains. Chrissy pressed on for answers.
"I felt like that crazy mom," Chrissy says. "I knew he hadn't hurt himself, and nothing else was working. I began demanding that we go elsewhere to see specialists and that he have any and every test that might explain what was going on."
Finally, bloodwork revealed that Carson had elevated antinuclear antibodies (ANA) -- evidence of autoimmune activity. This triggered a referral to a pediatric rheumatologist. At that point, Carson and his parents experienced a frustration that many families with JA go through -- access to care and lack of pediatric specialists.
"We called our local hospital, and the quickest appointment we could get was in eight months," recalls Chrissy. "All I could think was, 'what if he's not walking in eight months?'"
Fortunately, they were able to drive two hours to Cincinnati Children's Hospital where they received an official diagnosis. While Carson had always seemed to have challenges with his knees, tests showed that he also had significantly reduced mobility in his wrists.
"You know, hindsight is 20/20," explains Chrissy. "Looking back, Carson never crawled. He wouldn't support himself on his hands. I still have a lot of guilt, but I am not sure we could've done anything differently. We didn't even know JA existed at that time."
While parenting a child with JA has taken some getting used to, Carson's family has worked to define their new normal -- one that involves weekly injections, frequent medical appointments and lots of missed days of work and school.
"The blessing and the curse of being diagnosed so young is that he's never known a life without pain," says Chrissy. "JA was new to all of us, but it's all he's ever known."
With the help of methotrexate injections, Carson is able to do most things that little boys like to do. Carson tries his best to not to let the pain slow him down, but sometimes, the pain wins.
"Sometimes I forget that we're in a constant battle with arthritis," says Chrissy. "I take for granted that we've found a medicine that seems to keep his pain at bay most of the time. But then, I sit down to color a picture with my three year old, and he tells me he's done because 'these crayons hurt my hands.' Moments like these are a reminder that this battle is never ending."
Learn more about Carson's story using the links below. You can support Carson and the Arthritis Foundation by
donating on his behalf during Arthritis Awareness Month
! When you give to the Arthritis Foundation, you help support the Arthritis Foundation's commitment to helping the over 50 million Americans with arthritis say Yes. Give, so Carson can say Yes to childhood -- to superheroes and ninja turtles, to birthday cake and crayons.
Related Resources: