As part of our vetting process for
Arthritis by the Numbers
– a collection of verified arthritis facts and figures – we invited patients to comment on the disease section that most affected their lives. After all, they are the experts on how arthritis changes and challenges everyday living.
Meet Craig Buhr, who is challenged by gout and OA. Following, in his own words, are his thoughts about the statistics he reviewed in Arthritis by the Numbers – and how they relate to him personally.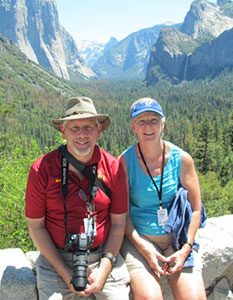 Question: How did you get involved with the Arthritis Foundation's mission to stop arthritis?Craig:
I first noticed joint pain when I was 42. I was diagnosed with osteoarthritis, having enlarged knuckles and other typical symptoms. I thought arthritis was just a part of aging. My pain intensified over the next years, causing difficulty in walking and maintaining an active work and home lifestyle. As a detail-oriented engineer, I did research to better understand this disease. I learned so much from the Arthritis Foundation's books,
Arthritis Today
magazine and information online.
Question: How do the statistics you reviewed apply to what you were going through?Craig:
There's a correlation between gout and OA, shown by comorbid biomarkers. I didn't know that before reading about it through the Arthritis Foundation. If I had, I would have posed more specific questions to my doctor earlier or modified my diet sooner as a preventive measure.
Question: What changes have you made in your life?Craig:
Excess weight has a severe and detrimental effect on joint longevity. I ramped up my cardio-based fast-walking and cross-trained with weights on alternating days. I was able to lose 37 pounds in just over a year. I participated in the Arthritis Foundation's Jingle Bell Run for the first time and recorded my best overall personal pace. I've been able to contain my gout flares. Conquering OA, which is a sinister and progressive disease that slowly degenerates joints, has been more challenging. But wraps, braces and heating packs have helped.
Question: What's your advice to someone newly diagnosed with arthritis?Craig:
Equip yourself with knowledge from the Arthritis Foundation. Seek medical assistance promptly. Talk with others going through this. Adjust your lifestyle to mitigate the long-term impact of OA, gout and other joint diseases. Expect rough spots. Get some rest. Volunteer to help others dealing with this. Research is constantly learning more about these debilitating diseases, so keep the faith and take care.
Question: What would you like arthritis researchers and health care experts to focus on?Craig:
I'd like to learn more about when it might be appropriate to get a joint replacement. How long do I put up with discomfort and loss of mobility before I consider that? We all desire the best quality of life, whatever stage of life. We want to function and remain active members of society.
Related Resources: