To say that Parker Lentini's life has been like riding a roller coaster the past few years may be an understatement. He and his family have endured more nerve-wracking ups and downs than most people experience in a lifetime. Yet it's their hope and faith, and trying to hold on to the highs they encounter along the way, that help them get through the low spots, when it feels like their lives have been turned upside down. Again.
Parker, who's 16 and lives with his family in Tampa, has been hospitalized more than two dozen times since he was diagnosed six years ago with systemic onset juvenile arthritis (sJA) – with "overlapping conditions," as well as hypogammaglobulinemia, severe allergies and asthma.
Systemic JA has attacked his heart, respiratory system and gastrointestinal system. He's undergone major reconstructive surgery on both of his legs, ankles and feet. Parker's arthritis has literally been at war with his body.
Fighting for his life
Last October, Parker was fighting for his life. His adrenal system shut down, his replacement cortisone had to be doubled, and now his family carries an epi-shot and cortisol shot everywhere they go in order to save his life in an emergency. He was in the hospital for a week and was taking not one, but two, biologics. "It is completely and utterly heart-wrenching for us and totally exhausting for him," Parker's mother, Rochelle, wrote at the time on their online family blog.
In November, Parker had more surgery, to get his left foot permanently fused because his body had rejected and absorbed the cadaver bone placed there during the first reconstructive surgery. Though he was back on his feet in a few months, he's had further complications and setbacks. He's struggling, Rochelle admits, saying that while parts of his disease are under control – he has fewer fevers and rashes, and less swelling in his visible joints – some of his joints, like his jaw and hips, are giving him trouble.
Still, says Parker's mom, "This kid never gives up, no matter what. Parker's body doesn't seem to have the same drive as his spirit does." His father, Michael, adds: "Parker continues to set short-term goals, like working hard through the pain at physical therapy, so he can walk the Walk."
Parker is the Arthritis Foundation's
2016 Walk to Cure Arthritis national youth honoree
. Last year's event in Tampa was the first time he got out of his wheelchair to cross the finish line. This year he wants to set a new milestone; he would love to "walk" at the event on May 7.
"Arthritis steals and we've got to cure it."
Since 2012, Parker and his Walk team –
Parker's Purple Playas and (brother) Logan's Dream Team
– have raised more than $60,000 for the Arthritis Foundation's work to discover a cure, and they're close to reaching this year's highest goal yet of $20,000.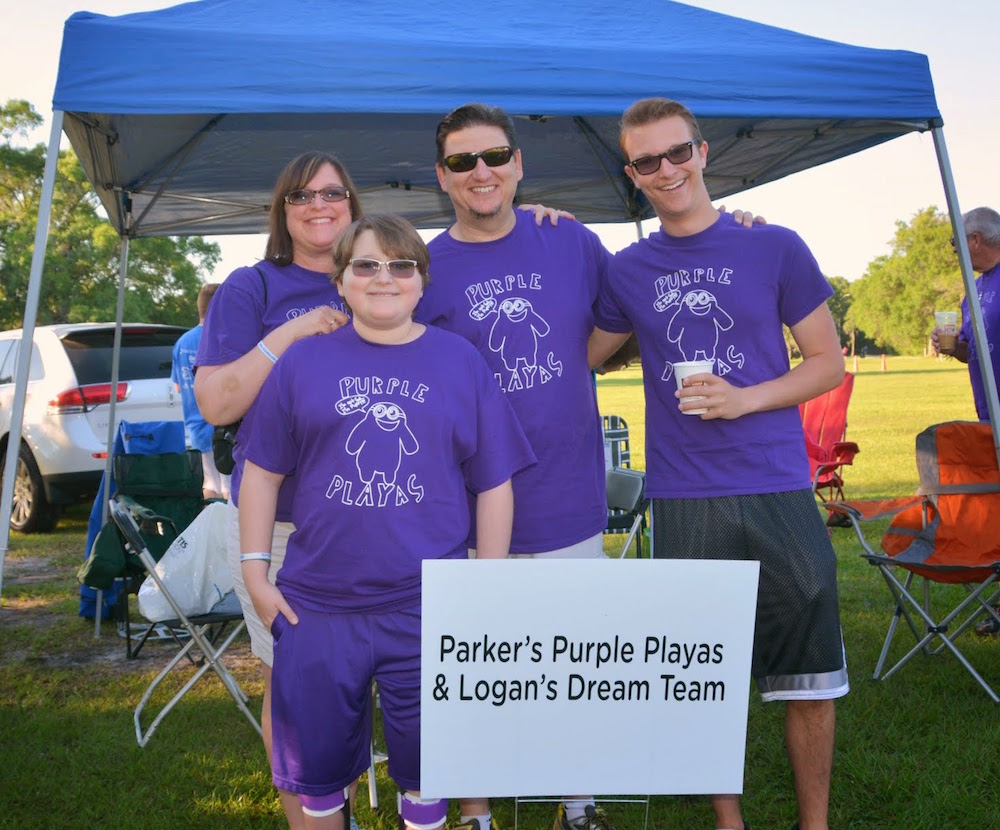 Parker gave us his
top three reasons
why the Walk to Cure Arthritis is so important:


"Donations to the Walk help the Arthritis Foundation do amazing things, like local JA camps and the national JA Conference – and most of all, to find a cure."


"I like seeing family and friends there. This event is among my family's favorite things we look forward to each year. Arthritis affects everyone in the family … parents, siblings and everyone they're close to."


"We have to make more people aware of a disease they probably don't know much if anything about. Arthritis steals from people's lives, and we've got to cure it."


Parker says there's a lot he's wanted to do that his arthritis has prevented. "But I'd rather not look at what I can't do than look at what I've been able to do," he says. "I'd never be able to meet all the people I've gotten to meet if I didn't have arthritis."
Parker shares his older brother's belief that there WILL be a cure. "All it takes is the right person conducting the right research," maintains Logan, who also has JA, though milder than Parker's.
"I believe that in this century we will find the answers we're looking for," Logan continues. "There's a solution to every problem, and there are cures to chronic illnesses. As long as we stay hopeful, and advocate for ourselves, the right person will eventually come to the table and make the discovery we've been waiting for; the discovery that will change the world."
And THAT'S the bottom line of why we ALL Walk to Cure Arthritis!
Related Resources: