A Shining Star in the Kitchen and Beyond: Paige Goehner, Food Network's "Kids Baking Championship" Season Six Contestant and JA Kid
Paige Goehner shares what led her to baking and how she became a contestant on the Food Network's "Kids Baking Championship," season six.
"If I had a free day, I wouldn't be outside – I'd be inside baking," says Paige, who's 11. "It's more fun because I have no limits. If I'm playing outside or doing something active, my arthritis will prevent me from doing things that I want to do. But with baking, I can be creative and do whatever I want."
When Paige was younger, she would watch her dad bake and immediately developed an interest. Before she knew it, Paige was watching cooking shows, reading recipes and blogs and telling her parents, "This is something I want to get into."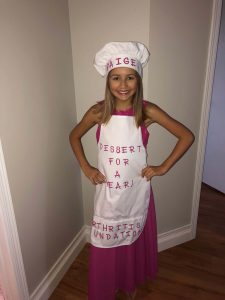 "When Paige was in kindergarten, she showed a real interest in baking," says Katie Goehner, Paige's mom. "I wasn't thrilled at first because I don't like a dirty kitchen, but when she turned 7, I relented. I promised to help her clean up and gave her more time in the kitchen."
Paige spent most of her evenings and weekends dog-earing recipes in cookbooks and learning how to make new things like macaroons and chocolate cakes. Even if the cake caved or was a flop, she stuck with it. In fact, Paige can't even taste all her creations (which would be a big help when trying to master a recipe) because she's allergic to nuts!
When Paige wanted to learn how to make macaroons, her mom hesitated because a main ingredient was nuts. However, she met her in the middle again: Paige could learn how to bake macaroons as long as her EpiPen was on the kitchen counter.
"I sat there holding my breath, so nervous she'd have a reaction," Katie says. "But independent Paige spent three long days in the kitchen, figuring out how to make macaroons until she mastered it…EpiPen and all."
While Paige was expanding her skillset in the kitchen, her pathway to the show wasn't a slam dunk.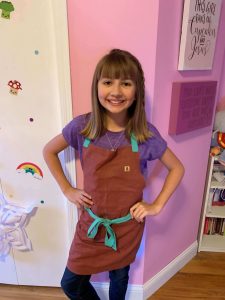 Paige applied for the show twice. The first time, she sent in her video submission and heard back from the network about 12 hours later. But the competition was really tough, and she didn't make the cut.
"My parents helped me during the application process by leveling my expectations, because I was auditioning against very talented kids who may have more skills than me," says Paige. "When I didn't make the show, I spent the next year taking classes and working every day after school and on the weekends to learn more techniques, skills and recipes, with the goal of earning a spot on the show next season." (And she did.)
Now, Paige has promised that if she wins the show, she'll make a donation to the Arthritis Foundation, so more kids can get the support and resources they need. Check Paige out in action by tuning into the Food Network's
"Kids Baking Championship,"
season six, which airs until Feb. 25 (and is available online).
Related Resources: