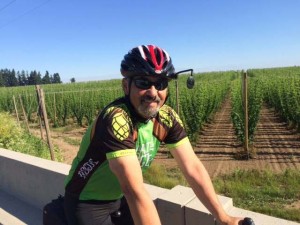 A love of cycling seems to run in Tom Baltes' family. Unfortunately, arthritis does, too.
As one of five children, Tom has watched as two of his siblings have been diagnosed
rheumatoid arthritis (RA)
and another has had two hip replacements. Tom has
osteoarthritis (OA)
.
"I was first diagnosed with OA in my left knee and lower spine when I retired from the military," recalls Tom. "I'm a lucky man in that I have not been particularly bothered by arthritis, but my siblings have really struggled with pain. My arthritis is very minimal compared to what they go through."
Now, Tom has decided to take his love of cycling on the road to raise awareness of arthritis.
An active retiree and relatively experienced biker, Tom turned 60 last last year and decided to challenge himself with a bike ride across the United States along a northern tier route.
"As so often happens on a big adventure like this, I began looking for a greater purpose," says Tom.  "I decided it should be to raise funds and awareness for two programs that are important to me. First, I wanted to support the Arthritis Foundation, which does outstanding work to help those with arthritis, such as my siblings. Second, I wanted to support Volkssporting, which is a worldwide program for walking, biking, swimming and other activities."
Through Volkssporting, Tom and his wife Louise have walked more than 30,000 kilometers in more than 20 countries and in all 50 states.  
"Louise and I feel like our walking and biking helps us fight off the debilitating effects of arthritis," says Tom.  
Tom set out on his journey east from Seaside, Oregon on August 16. He plans to finish the 4,200-mile, 16-state ride (plus Canada!) on October 4 in Portland, Maine. Louise is Tom's support driver along the way, driving their truck and 23-foot trailer  -- with kitchen and bathroom -- along a similar route. She has been at the ready with water, nourishment and many types of support along the way. This current ride is not Tom's first time advocating for the Arthritis Foundation on his bike.
"In 2012, my brother Ken had a big birthday, and we wanted to do something spectacular to celebrate it, so we, along with our wives and our sister, decided to ride in the People's Coast Classic, which is a 363-mile, six-day bike tour from Astoria to Brookings, Oregon," says Tom. "It was then that I really began to appreciate the Arthritis Foundation and all of the work that really needs to be done.
Tom's siblings have been fortunate enough to experience some relief from their RA symptoms due to biologic medications.
"I know the pursuit of a cure for arthritis will come through the Arthritis Foundation," says Tom. "Each mile I ride across America reminds me of how vital the Arthritis Foundation's work is to so many, including my own family."
To follow along Tom's journey, click
here.
To help Tom reach his $30,000 goal, click
here
.
Related Resources: