33 -- that's the number of years Joanna Helon has had arthritis. The kicker? She's only 40.
For 21 of those years, Joanna has channeled her energy into the Arthritis Foundation's
Jingle Bell Run
for Arthritis. Through medications, treatments, inflammation, pain and some frustration, Joanna has leveraged the 5K as a platform to gather friends, raise awareness, and most importantly, raise money to support the Arthritis Foundation.
Joanna, a non-profit consultant in the Columbus, Ohio area, was diagnosed with juvenile rheumatoid arthritis in elementary school. For more than a year, Joanna and her family struggled to find an accurate diagnosis for her pain and sudden restrictions to her movement. She saw multiple doctors and health professionals, with some even suggesting her symptoms did not have a physical cause.
"I am the fourth of five children, and this was the 1980s," Joanna recalls. "Doctors suggested that I was seeking attention."
Yet, her disease progressed and she dealt with ever-increasing limitations. Soon she could not tie her own shoes or sit down on the floor unaided. She cried in her sleep every night because of the pain.
Fortunately, Joanna found an ally in her gym teacher who noticed that something was truly going on with Joanna's joints. The teacher even had Joanna's friends help her with exercises and stretches to keep her joints moving. Luckily, Joanna eventually received an accurate diagnosis of juvenile rheumatoid arthritis at Akron Children's Hospital, but within the year that passed between misdiagnosis and diagnosis, the damage had been done.
"The doctor there knew as soon as he looked at me that I had juvenile rheumatoid arthritis," Joanna says. "While it was a relief to finally get a diagnosis, a lot of limitations and damage to my joints arose in the year that I didn't have treatment."
Joanna's treatment regimen started with 36 baby aspirin everyday. She then moved on to gold shots and eventually, nonsteroidal anti-inflammatory drugs (NSAIDs) and methotrexate. She now takes a biologic injection once a week. While Joanna didn't have access as a child to today's biologic drugs that many children take now, she is grateful for the strides that have been made in treatment options.
"I am so happy there are medications available today that can modify the disease and prevent joint damage," Joanna says. "It's much less common to see children with extensive joint damage today than when I was young."
[caption id="attachment_538" align="alignright" width="208"]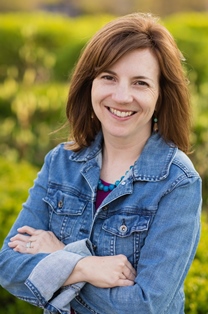 Joanna Helon, Jingle Bell Run National Adult Honoree[/caption]
Now a mother of two, Joanna says her active arthritis is controlled, but confirms she deals with daily pain and range of motion issues due to long-term joint damage.
"I have arthritis in every joint in my body, so there are a lot of things I cannot do," Joanna explains. "I can't put on my own socks or open a jar of spaghetti sauce for dinner. I've lost the use of my thumb in my right hand, which makes typing -- an essential part of my job -- increasingly difficult."
Though her battle with arthritis is a constant one, Joanna prefers to focus on a different constant in her life -- the Arthritis Foundation. Since her childhood diagnosis, the Arthritis Foundation has been a steady source of information and support for Joanna and her family.
"My parents looked to the
Arthritis Foundation in Cleveland
when I was growing up," Joanna says. "I went to camp for children with arthritis and also went to the JA Conference. It allowed me to meet other children who understood what I was going through."
Joanna also has volunteered at JA camp and has served as an Arthritis Foundation advocate on Capitol Hill and at the Ohio Statehouse. And then, there's Jo's Jinglers, Joanna's devoted Jingle Bell run team. For the past 21 years, since Joanna was a college student at The Ohio State University, she has gathered friends and family members to participate in the Jingle Bell Run, a holiday-themed 5K that raises funds to benefit arthritis research.
"In the many years we have been involved in the Jingle Bell Run, it has grown so much and become an event that my friends and family know to mark on their calendars," Joanna says. "It's fun and a great opportunity to raise awareness."
This year, Joanna is honored to serve at the National Adult Honoree for the Jingle Bell Run, a role that puts her in the familiar place of ambassador for the Arthritis Foundation and an advocate for others with arthritis.
"I have always felt really grateful for my ability to deal with my arthritis," Joanna explains. "But I know that some people are really struggling. Supporting the Jingle Bell Run so that we can fund more research and hopefully find a cure is something I can do. It is such a hopeful event."
53 million people live with arthritis. 300,000 are children. Find a
Jingle Bell Run
in your city and join Joanna in making a difference in the fight against arthritis.
Support Joanna 
here.