By Pete Scalia
Hi! My name is Pete. I was diagnosed with severe rheumatoid arthritis when I was 30 years old.
I had my symptoms under control for a number of years, until my wife and I decided we wanted to start a family. For me, that meant pausing my treatments while we tried to conceive.
Unfortunately, it took much longer than we had planned. After months of not taking my regular medications, our first pregnancy ended in a miscarriage.
Ultimately, through the miracle of IVF, we were finally able to conceive our first daughter, Lola. But by then, my body had changed, significantly.
The long hiatus from my medications — along with the effects of the steroids I was taking to manage my symptoms — had dramatically affected my appearance, and my mobility. When I tried to resume my old routine, none of my previous treatments worked.
It took almost another year to finally find treatments that worked for me. During that time, the cartilage in my hips, knees and other parts of my body was completely destroyed. I underwent bilateral hip replacement surgery, and 14 months later, I also had both of my knees replaced.
But it was also during this crazy time that I became a dad. Lola was just six months old when I had my knees done. It was a dark time for me. I wondered what kind of father I could be, when I couldn't even get out of bed to hold my own daughter.
Then something changed. My wife Amy told me I was like the Phoenix — it was my time to rise. I was focused. Determined. One day, I swung my bandaged legs over the side of the bed, leaned onto my walker, and made my way into our little girl's nursery — for the very first time. I promised myself at that moment I would NEVER GIVE UP.
As someone who's always worked in the media, I consider it an obligation to share my story — on TV, social media and through my involvement with the Arthritis Foundation. I've made it my mission to educate, inspire and enlighten people about what it's like to live with arthritis — and encourage others like me to never give up.
We're now blessed to be a family of five. Our children — Lola, Sofia and Nico — know about Daddy's "special" hands and feet. They know that my arthritis isn't something that will go away.
Through our involvement with the Arthritis Foundation, they've also met some amazing children their own age who live with arthritis, like Daddy does.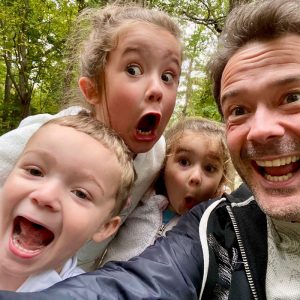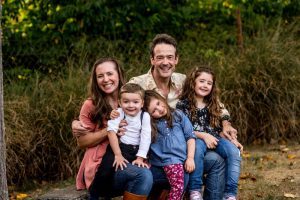 .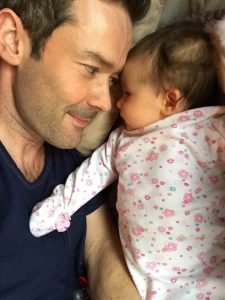 As a father, you want your kids to think you have all of the answers — and that you're invincible. But I don't, and I'm not.
It's tough to hide the pain I experience every day. And it can be tough to accept there are certain things you can't do with your kids. But I choose to focus on the things I CAN do — because even the simplest moments can create lasting memories, and valuable life lessons.
For all of the men and fellow dads who are living with arthritis, I'm here to tell you — it's going to be OK.
It's OK to hurt. It's OK to acknowledge the pain and frustration. You're a badass for simply getting up and "doing life" every day. Your kids will still look at you like you're some kind of superhero.
Remember: You are not alone. It's OK to talk about how you feel. And know that me and tens of thousands of other dads living with arthritis are right here if you need us.
If you're living with arthritis and want to share your experiences, especially all of the men and dads out there living with a form of arthritis, you too can share your story. Make a difference and
sign up to be part of the Arthritis Foundation's Patient Voice Panel today
.
One of the most powerful things you can do to help others living with arthritis is to share YOUR story. Your lived experience can help someone feel like they are not alone. Whether you're newly diagnosed or a 20+ year arthritis long-hauler, or maybe you're a caregiver who has a loved one with arthritis, share your Story of Yes.