She is a healthy, energetic 26 year-old from the outside, but Meg Maley has been battling with psoriatic arthritis most of her life. In the summer of 2015, Meg had the opportunity to become a houseguest on the CBS reality show, "Big Brother." Before and during the show, Meg kept her disease a secret, fearing the thought of others putting limitations on her. After the show ended, Meg decided to use her newly found platform as an opportunity to finally share her story of living with psoriatic arthritis.
Meg was diagnosed
psoriatic arthritis
(PSA) around the age of 12. Leading up to her diagnosis, she experienced hip and joint pain and spent months on crutches. After months of not knowing what was causing her pain, lab tests and family history of psoriasis and arthritis led doctors to make a connection and Meg was formally diagnosed.
After her diagnosis, Meg wanted to go on with life as if everything were normal. She did not want to tell her friends and teachers and pushed through pain with a smile so no one would think anything was wrong. She made time in her class schedule to be able to leave school for her infusion and make it back in time with no questions asked. She even had three synovectomy surgeries on both of her knees without telling some of her closest friends. Over half of her life, Meg has battled PSA on her own.
With her love of reality television and entertaining people, it was no surprise that Meg found herself on "Big Brother." "On the show, people can watch everything you do on television or the internet all day," said Meg. "Fans noticed that physical competitions were nowhere near my strong suit and I had a scar on my knee." Meg started to realize that this might finally be the time to share her story.
[caption id="attachment_441" align="alignright" width="600"]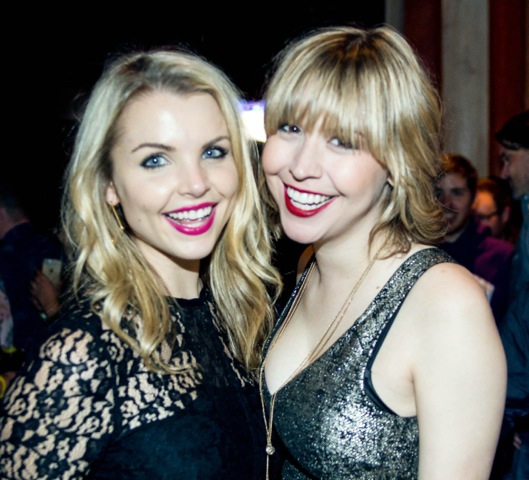 Andrea Boehlke and Meg Maley at their reality show reunion, a fundraiser for the Arthritis Foundation.[/caption]
After the show ended, Meg and her friend, Andrea Boehlke, who has also appeared on the reality show "Survivor", decided they wanted to host a reality show meet-and-greet to raise money for a charity. They talked to many different charities about donating the proceeds. One day, Meg had an epiphany. She has arthritis, it only makes sense to use this opportunity to share her story and raise money to benefit others with arthritis.
Meg reached out to the Arthritis Foundation and a wonderful relationship began. Meg and Andrea hosted a reality show event and raised over $15,000 for the Arthritis Foundation. "I really felt like I was in the right place at the right time, this is what I need to be doing," said Meg. "After ignoring my disease for so long I want to support the Arthritis Foundation so we can find a cure and a way to live without pain and restrictions."
Meg knows what it is like to live with arthritis for many years but has not met or known anyone in her age group with arthritis. She wants to share her story and inspire other young people with arthritis to not be silent. "It's okay to reach out and share your story if your body hurts, get the help you need," said Meg. "Something I struggle with is the fact that people can't see that you're ill and when you can't do normal activities. That's why we need to have these conversations."
Meg and Andrea will emcee the
New York City Walk to Cure Arthritis
on May 14. Meg hopes you will join her at the Walk and join her in sharing your story, young people with arthritis are not alone.
Follow Meg as she shares her story of living with PSA on social media. Twitter and Instagram: @MegMaley