At this year's 2019 Advocacy Summit, the Arthritis Foundation was excited to welcome
Meg Maley
, CBS' "Big Brother" Season 17 houseguest, as a first-time Advocate.
Meg was diagnosed with
psoriatic arthritis (PsA)
when she was just 12 years old. After her time on "Big Brother" came to a close, Meg decided to use her newly-found platform as an opportunity to share her story of living with PsA and uveitis. Since then, she has emceed the
Walk to Cure Arthritis
in New York City and hosted a multitude of fundraisers to benefit the Arthritis Foundation.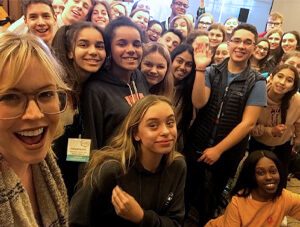 Originally from New Jersey, Meg recently moved to Texas. Because of this, she has experienced firsthand some of the issues surrounding access to care from a state-to-state level – and the dire need for important changes to take place on a federal level.
We caught up with Meg after the
Advocacy Summit
and got her top five takeaways from her advocacy experience:
Get Involved!
"After the show, when I started talking more about my arthritis, I wanted to get involved with the Arthritis Foundation and do what I could. There are so many different ways to support the Arthritis Foundation! Advocacy was something I never thought about; I didn't think I could do something with such an impact. But this experience made me realize I had a voice and could make a difference. I can help make
health care
better."
Your Representatives Appreciate You Being There
"Not only is it a unique experience to be on Capitol Hill, when you walk in the offices and meet with your representative and their staff, they really are appreciative of you being there in person, talking with them face to face. When you are able to sit there and say, 'I have arthritis,' you can see that telling your story and having more conversations around arthritis will help drive awareness to more people."
Junior Ambassadors
"As someone who was diagnosed with PsA at a young age and really struggled with it when I was a preteen/teenager, I'm passionate about working with young people. The
Junior Ambassadors
I met completely blew me away! They asked the most thoughtful questions and are able to tell their story about living with this disease. They are so courageous and brave. I don't think I would have done something like that when I was their age."
Your Time is Worth Their Time
"We met with Rep. Sheila Jackson (TX-18), and the staff working with Sen. John Cornyn (R-TX), Sen. Ted Cruz (R-TX), Congresswoman Kay Granger (TX-12) and Congresswoman Lizzie Fletcher (TX-7), who were all really great and appreciative of meeting with us. When you speak to them, they are taking notes and documenting our conversation. The more you contact your representatives, whether it's a phone call or writing a letter, the more arthritis will be talked about and changes can be made."
The Big Picture
"Texas has already passed step therapy reform on a state level, so during our meetings we were able to communicate the importance of supporting
step therapy
on a federal level. After my personal experience with state-to-state health care issues, where my doctor had to fight to reapprove a medication I had already been taking, you realize the importance of federal laws. Your representatives are the people who can help push this issue further on a national level, where the impact would help so many more people. You definitely come out of this event with a lot of hope for the future."
Thank you to Meg for sharing her insights from the 2019 Advocacy Summit and to all Arthritis Foundation Advocates and Ambassadors who joined us in Washington, DC, or participated in our virtual summit.
Together, we will continue to #AdvocateforArthritis to support the 54 million Americans with the disease.
If you're interested in becoming an Advocate,
visit our website to learn more
!
Related Resources: