[caption id="attachment_589" align="alignright" width="235"]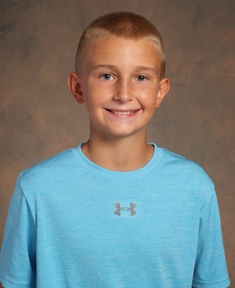 Max Larsen[/caption]
When Max Larsen wants to raise funds to cure arthritis, he goes all out. As the 2016
National Jingle Bell Run Youth Honoree
, Max and
Team to the MAX
held one of his largest and the nation's most unique fundraisers on October 8. Max's annual fundraiser, Big Ox Plop Bingo, raised funds to get him closer to his $50,000 fundraising goal and 75 people joined his team!
Max Larsen was diagnosed with juvenile arthritis when he was 8-years-old, and ever since, he has been determined to find a cure. Now 13, Max has undergone many treatments, including physical therapy and a daily regimen of pills and biweekly injections, all of which have helped keep his illness under control. Still, Max is determined to find a cure and, like all goals he sets, he will not stop until that is accomplished.
In 2015, Max came up with the idea to host a unique and exciting fundraiser and Big Ox Plop Bingo was born. During this annual all-day festive event, a grassy field is divided into equally sized squares, each of which are sold to the game's participants. Oxen are released onto the field and the square owner wins if the ox deposits on their square. This year's event included live music by a local radio station, corn hole tournament, food, drinks and a large silent auction.
When Max isn't fundraising, he loves to play sports, hunt and fish. He and his family live in Denmark, Wisconsin, and have become increasingly involved with the Arthritis Foundation. Max has donated more than $10,000 from cattle he raises and sells at the local livestock show. Every year since 2013, Max has been named the nation's top Jingle Bell Run fundraiser.
In just the past three years, Max and Team to the MAX have brought in more than $100,000 to support the Foundation's mission and get us closer to a cure. "People care about kids with arthritis and I want everyone to know that," says Max. "My advice to others who learn they have arthritis is to keep it positive and live life."
Today, as a fighter, a goal-setter and a rock solid Champion of Yes, Max won't give up the fight against arthritis until the disease has been conquered for good.
To learn more about Max and support him in his fundraising efforts, visit his , visit his
fundraising page
.
Thank You To Our Jingle Bell Run Sponsors!