Matt Pierce, a 45-year-old firefighter in the Chicago area, is on a mission.
After years of participating in the Arthritis Foundation's
Jingle Bell Run
with his team, the Red Nosed R-A-ndeers, Matt has set his sights on something quite a bit longer than a 5K: riding his bike 525 miles from San Francisco to Los Angeles this September with the
California Coast Classic Bike Tour
(CCC).
Matt has also committed to raising at least $3,500 for the fight against arthritis, as does every CCC participant. Last year, this flagship fundraising event, presented by Amgen, raised over a million dollars.
"I saw a
video about the California Coast Classic
at the Arthritis Foundation Conference of Champions in Baltimore last November, and it 100% inspired me," says Matt. "I'm not a cyclist, and I've never done anything like this before, but I basically signed up immediately."
Matt will join 250 other riders for the eight-day, self-paced tour, which rolls out from Fisherman's Wharf in San Francisco on September 22 and follows California's iconic Highway 1 along the Pacific coast. The fully-supported ride includes baggage service, catered meals, mechanics, nightly raffles — and even a traveling team of massage therapists.
The route of the CCC is truly exceptional, showcasing the beauty of Big Sur, Morro Bay, Santa Barbara, Malibu and other notable California destinations. But Matt is drawn to more than just the amenities and the scenery. He says the trip is a "life event" for him. "I'm really looking forward to challenging myself."
Also, like many of the riders in the California Coast Classic — who either have a form of arthritis or ride in support of someone who does, or both — Matt will fundraise and pedal with a particular person in mind: his wife, Kelly Pierce, who was a 15-year-old high school student and Irish dancer when she learned she had juvenile rheumatoid arthritis.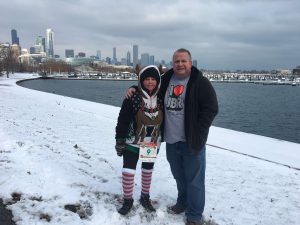 "I was having problems with pain and swelling in my knees, and I had to quit Irish dancing," explains Kelly. "I was the only kid I knew who had arthritis, so I had no one to talk to about it. People say it's an old person's disease."
These days, Kelly is doing well, thanks to a combination of quality medical care, medications and past surgeries. She and Matt enjoy traveling and manage to take a few trips a year. "I'm proud I have not let this disease control my life," she says.
Kelly's experience with RA — and her connection to the Arthritis Foundation — inspired Matt and her to participate in their first Jingle Bell Run in 2013. In the six years since, Kelly has been an adult honoree of the event (2015), and the Red Nosed R-A-ndeers have collectively raised $106,386, making them one of the top-ranked JBR teams in the country.
"The fundraising's actually pretty easy," says Matt, who enjoys strong support from his network of fellow fire and police workers. "We don't just ask for money — we give people something fun, like a party with really great raffle prizes, or a fun golf outing. I held a Super Bowl event for my California Coast Classic fundraising, and it worked out really well."
Having a handle on the fundraising piece has enabled Matt to focus on the other major component of his CCC preparations: the training. It's a daunting task to ride 525 miles in a week, but Matt has a plan: "The first thing I did? Drop a ton of money on a new bike! I've
got
to do this ride now," he jokes.
Kidding aside, Matt knew that having the right equipment would set him up for success, so he visited Kozy's Cyclery, a well-known Chicagoland bike shop, where they helped him pick out a new Cannondale road bike to replace the heavy hybrid he owned previously. As the weather has finally warmed up in Chicago, he has started riding his bike to and from work, and doing longer rides on the weekends as his schedule allows.
One of the things that also drew Matt to the CCC is that it's a beginner-friendly ride that welcomes cyclists who are new to long-distance events. As such, it provides a detailed, six-month training calendar that guides participants through the preparations they need to make to have a healthy and fun experience.
More importantly, Matt immediately became connected to CCC riders, volunteers and organizers of the
California Coast Classic Bike Tour Group on Facebook
. Through the group, he joined a team, got advice on his bike purchase, made travel plans and received training tips. He hasn't set foot in California yet, but he's already one of the CCC family.
Learn more about
Matt and Team Princess Parade
as they prepare for the event of a lifetime this fall. And if you're interested in joining him in the Golden State this September, there are a few limited spots left.
Visit
www.arthritis.org/CaliforniaCoastClassic
to get in on the fun and join the mission!