When Mariah Aquino-Truss was four-years-old, she named one of the bumpy hills near her house the "Arthritis Hill," because every time she and her mother, Tory, drove over the hill, the bumps in the road would cause her to cry out in pain.
"She was old enough to know something was different, but not old enough to know how to process it," says Tory.
Mariah began experiencing arthritic symptoms around age three, when she had severe neck pains that became so bad that she had difficulty moving her jaw. But when Tory would drive her to the emergency room, they were told there was nothing they could do.
Meanwhile, Mariah's symptoms continued to get worse. Her spine began to curve, and the inflammation in her hip became so severe that one of her legs was an inch and a half longer than the other. Finally, Tory sent all of Mariah's bloodwork, scans and medical information to a rheumatology specialist in 2011, who was able to diagnose her with polyarticular spondyloarthropathy, a form of
juvenile arthritis (JA),
before even seeing her face-to-face.
"When she was able to visit the doctor, he told her, 'Mariah, I hope you know that you're famous. Everyone on our team looked at your pictures – not your outside, but your inside – and you're famous," says Tory. This was because at the time of her diagnosis, polyarticular spondyloarthropathy had affected all of her joints, and was present throughout her entire body, including her fingers and her toes.
"When she was diagnosed, she looked up at my mom and said, 'I just have one question: do you think I'll ever be able to run again?" Tory recalls. "And my mom said, 'I hope so,' and she said, 'me too.'"
A Social Media Champion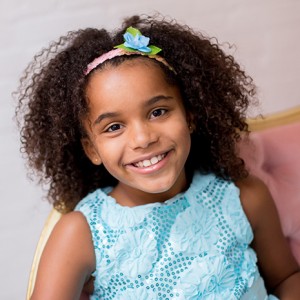 "Mariah was born a warrior," says Tory. "Her outlook, when she was diagnosed, was that she was going to fight this. And I told her that we would do everything we could to make it better for her."
As Mariah grew older, she relied on emotional support from her sister, Mauriauna, who was only six when Mariah was diagnosed at age five. Her sister became Mariah's rock, assisting her with every day issues that Mariah had difficulty with, like getting on and off of the school bus. The Aquino family also partnered with the Arthritis Foundation, allowing Mariah and Mauriauna to team up with Foundation representatives and hold presentations for their classmates about what living with arthritis was like.
But Mariah wanted to do more than just talk to kids at her school. "One day, Mariah came to me and said, 'Mom, I want to find other kids with arthritis,'" recalls Tory. "So I said, 'Why don't we make a Facebook page?" At the time, Tory was already active in social media, but she was a part of Facebook groups that mostly consisted of parental discussions. Mariah wanted a way for kids with arthritis to connect with each other.
Thus, the Facebook group,
Mariah's Movers
, was born. The name stemmed from a team name that Mariah had come up with earlier in the year, when she, Tory, and Mauriauna were trying to decide on a name for their group participating in the
Walk to Cure Arthritis
, a 5K that allocates its funds towards finding the cure for arthritis and related diseases. "Mariah said, 'Since we're going to be walking, aren't we also moving? So let's be Mariah's Movers!" says Tory.
The Facebook page garnered interest when it was launched, and quickly grew to more than 2,000 followers today. Mariah, now age nine, has been active in the community over the past few years, speaking to kids all over the nation, from ages three to 16.
"This movement is bigger than her – this is her way of gaining power over arthritis," explains Tory. "In school, she's an active leader, she tries to help other kids at school who have disabilities and special needs. But in the arthritis community, she loves to talk to kids all over to let them know that someone else is out here who knows what it's like. Mariah now has in-person friends her own age who have arthritis, but there are many kids out there who don't. Now they can find her on Facebook and know that someone understands what they're going through."
A Two-Way Conversation
Mariah's Movers also provides Mariah with an outlet to express not only her victories and a message of hope – but her own frustrations with every day challenges.
"Sometimes she plays tough with me, and doesn't tell me how she really feels," admits Tory. "But I recently read a conversation she was having with another little girl about arthritis, and she was admitting how much better it makes her feel to talk to someone else who gets it."
Although the Facebook page promotes a message of hope, inspiration and support for those with JA and their family members, Tory knows how especially hard the disease can be on young, energetic children who want to run around and play, and then suffer inflammation or chronic pain for several days afterward if they do.
For this reason, Tory and Mariah try to keep their messaging honest. While the tone is always inspirational, they present a human element in their online community, posting messages and photos about the everyday challenges that arthritis creates, but also about the ability to overcome and persevere.
"I want us to be able to stay strong while waiting for a cure," says Mariah. "I want them to know that I suffer the same pain they do and that we can all stick together to become stronger."
Special Victories: Advocating for the Community and the Nation
In addition to managing Mariah's Movers, Mariah is also a figurehead for JA offline. She commits at least 10 hours each month to volunteering for the Arthritis Foundation, and in 2012, she was named the Arthritis Walk child honoree for the
Walk to Cure Arthritis
. During this role, she was featured as the face of the event, where she and Tory worked to raise awareness of the disease and to garner support for the cause.
That same year, she established the Mariah's Movers Carnival, located each year in Mariah's home state, Pennsylvania. The fundraising carnival, in its fourth year, is designed for the community, featuring events that families can enjoy, including arts and crafts, a petting zoo, bouncy houses and live bands.
In November 2014, Mariah was named one of the recipients of the
Jefferson Awards for Public Service
for her volunteer and advocacy work. Upon her win, the Forbes Fund donated $1,000 to the Arthritis Foundation on Mariah's behalf, and she and 47 other local award winners (of which Mariah was one of seven finalists) were honored at a ceremony in Heinz Field, Pennsylvania.
This year, Mariah and her family travelled to the Capitol to attend an Advocacy Summit, where they promoted the Arthritis Foundation's policy positions about medication costs, patient care and prescription coverage.
"I liked Capitol Hill," says Mariah. "I got to meet a lot of senators and was able to tell them that kids get arthritis too and that we need to work together to find a cure."
"Her outlook has empowered her over the years to fight," says Tory. "And going to these conferences – it provides her with a sense that there's a bigger picture. There are kids and people out there with the disease all over the world."
Staying Active and Looking Forward
About a year ago, Mariah was diagnosed with celiac disease, which affects her ability to digest gluten. Despite this new challenge, Mariah remains positive, relying on her sister and mother for support, and continuing to grow her network of children and teens with JA on- and offline.
"She's able to put her life in perspective, which is an astounding trait for a nine-year-old, because it makes me feel like I'm talking to an adult," says Tory. "Despite her pain and all that she has to give up, she knows that she's lucky to have all that she does and to be able to have opportunities that she does – like going to Capitol Hill and advocating."
And at the end of the day, Mariah is so much more than just a JA advocate: she's also a happy, active child, who loves to swim and dance. She also wants to be a veterinarian when she grows up.
"This movement is so powerful to me," says Tory. "People will tell our family that they recognize us from our page, but I don't think we realize how big this is. This is so much bigger than us. What Mariah's started – it offers so much hope to people. I don't think we realize the impact it really makes."
To learn more about Mariah's Movers, please visit their
Facebook page
. To support Mariah and others with arthritis, please join the Arthritis Foundation in celebrating
#GivingTuesday
, a worldwide movement where communities, families and corporations are dedicated to giving back and celebrating generosity. With your help, we can help children like Mariah, and other JA warriors, like
Carson
, say Yes to making a difference in the arthritis community, and we can take strides towards finding a cure.
#GivingTuesday will take place on December 1, 2015.
To learn more about how the Arthritis Foundation is participating in #GivingTuesday, and to read more about JA Warriors like Mariah and Carson, please
click here
.
photo credit: www.customportraitsbycharlene.com.
Related Resources: