By now, those of you reading this are likely experiencing a shelter-in-place order, school cancellations, or other social distancing situations in your own communities due to the COVID-19 global pandemic.  Here in California, our state is under a statewide shelter-in-place directive and I am on week 2 of 4 with my children's schools transitioning to "distance learning".  Some districts in our area have already announced this will continue for the remainder of the school year.  If you are anything like me, this sudden and massive change has rocked your family unit and you are trying to navigate the unfamiliar.
Two weeks ago, I had no idea I'd be embarking on a full-time, homeschool teaching gig.  I now find myself playing the role of wife, mother, teacher, chef, therapist, entertainer and to be real, sometimes a warden.  Thankfully, since we're home for the foreseeable future, I can cross "chauffeur" off that list.  If I'm being honest, I feel the weight of the world on my shoulders.  We. All. Do.  Adding in the fear and uncertainty of you, or your child, being immunocompromised makes everything more intense. 
I want to share a few suggestions that are working (and a few that aren't) for our family in the hopes to help and inspire you as we all work to Live Yes in our new normal.
First, a bit about me.  I am a stay-home parent to three children, age 6 to 13.  My oldest was diagnosed with juvenile arthritis at 18 months.  She has been on some form of immune-compromising medication since her diagnosis.  Thankfully, she has a wonderful team of doctors who have been very accessible to my questions and concerns as this pandemic has unfolded.  My first bit of advice, if you haven't already, would be to reach out to your medical team.  They will be able to accurately give sound advice for your specific situation. 
Our doctors have been very informative on ways to mitigate my daughter's risk of exposure to COVID-19.
  You've spent years developing a strong working relationship with your medical team, trust their guidance during this time.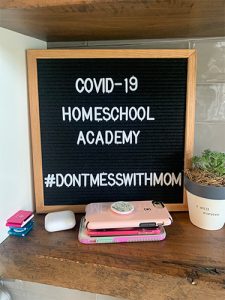 Now, some ideas on managing life at home.  I run a tight ship.  Our homelife is organized, well-planned and predictable.  A controlled environment is my happy place.  Cue global pandemic to push my parenting anxiety into high gear!  I think what I struggle with is the unknown.  On a typical day, I have three kids attending three different schools.  I know I have from 9:00 a.m. to 1:30 p.m. each day to do all the things that need to happen for the children.  I know that homework and dinner need to happen on schedule to get kids to their practices and activities. And now, poof.  Gone!
Before the first day of our "COVID Homeschool Academy" I took time to develop a daily schedule.  I pushed hard to stay on task by setting timers and making sure everything was happening by MY intentionally thought-out plan.  Day 1 went great!  But, there was some resistance on day 2 and by day 3, 3 of 5 members of my family had a teary breakdown, myself included.  I have now realized that what works one day, might not work on another.  And what works for one child, will be the demise of someone else. 
We have now all agreed that we loathe the word "schedule" but realize that a "routine" is better suited for us.
My oldest is great at working independently.  She is a task master, like her mama, and gets her work done.  Other than checking in from time to time and throwing a sandwich her way around noon, she's functioning well on her own.  My middle child needs more structure.  We focus on different subjects at specific times throughout the day, always starting with what she dislikes most first thing in the morning.  Trust me, get that battle over with early in the day and things can only improve from there.  She needs more check-ins on how long she's spent on each task but has found her groove.  Then there's the littlest.  He's in kindergarten and on his best days can be described as feral.  I've come to learn that six-year-olds never stop talking.  Ever.  His school packets are done 15 minutes at a time and then he's released into the backyard to burn some energy.  We mix up worksheets with computer time and reading stories with hands-on learning, like building or cooking
.  In the end, they are three very different children with three very different learning styles and sets of needs.
  If a set schedule works for your family, great!  But take this time to listen and observe what your children's needs are and come up with your own family routine.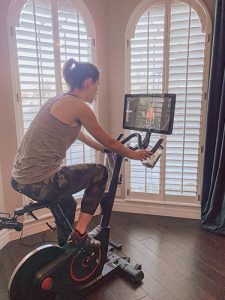 As anyone living with arthritis knows, moving your body is important. 
With the proper guidance from your doctor, movement can help loosen your joints and lift your spirits.
  Depending on your current situation, you might not have access to your normal exercise routines, but moving your body should still be a priority.  My JA daughter, and her sister, are both competitive year-round swimmers.  They have no access to a training pool and meets are cancelled through at least the end of April.  Losing an activity they love has not only taken a physical toll, but a mental one as well.  We have been provided with "dry land" workouts from their coaches that we try to do as a family. We dusted off the rowing machine that has been sitting in our garage and invested in a live-class exercise bike.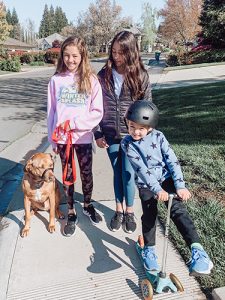 We are all finding new ways to move our bodies. My favorite is simply walking our dog.  This was usually a task I did alone while the kids were at school but now we go as a family.
We talk, we laugh, we enjoy all the sidewalk art along the way and our dog is loving every minute.  Movement is good for your body and good for our soul.  Find what works for you and commit to moving for at least 20 minutes each day.
Social distancing is tough.  I'm social.  I like being with people.  I'm a hugger.  My family is the same.  We hug when we see friends and family.  We gather frequently and we're happiest when our home is filled with friends.  What we are missing most right now is connection.  It's there, we just need to be creative in how we find it.  As much as I hate to admit, my use of social media is way up.  But given the circumstances, that's not necessarily a bad thing.  Social media is allowing me to "see" what my friends and family are up to and how they are keeping busy. And there is certainly no shortage of funny memes to keep us laughing.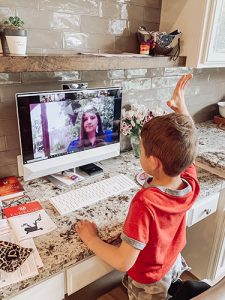 I have loved seeing posts using the hashtag #WeLiveYes from people in the arthritis community, showing how we are learning to live in our new normal.
We have had to loosen our technology reigns and give the kids opportunities to connect with their friends and teammates.  A few days ago, my girls had a group video chat with their swim friends that lifted their spirits.  Yesterday, my son had a Zoom call with this teacher and classmates.  Kindergarten video chats are the cutest thing ever. 
The point is, social distancing does not have to mean social isolation.  As a collective group that is immunocompromised, we do need to practice extra caution while also being mindful of how important human connection is.
  Pick up the phone, plan a video chat, play an online game with someone, host a virtual dinner party.  In this uncertain time, we don't know how long these circumstances will go on.  Take time, make time and connect.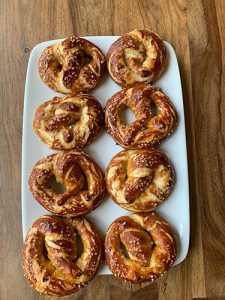 At the end of week one, I was feeling the monotony of things really get me down.  I couldn't possibly help with another worksheet, do another puzzle or paint another rock.  I was in a funk and didn't want that feeling to spread to my husband and children.  I had to make the choice to find joy and be thankful for something each day.  A month ago, I looked at my family calendar and had crushing anxiety wondering how I would make it through March.  On top of my husband's travel schedule for work and our normal school/swim routine, we had two travel swim meets, a surprise birthday trip for my daughter and I was headed to Washington DC to represent all of you at the Arthritis Foundation's Advocacy Leadership Retreat. These are all great things that I am thankful for but it was just so much in a short period of time.  Then, everything changed and our calendars were cleared for weeks on end.  I have found great joy in this gift of time.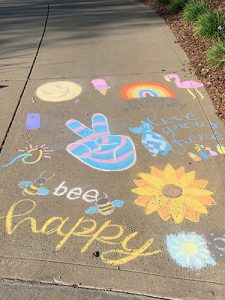 Here in northern California we are on Day 10 of quarantine.  I have learned that my oldest is an amazing artist.  I always knew she loved to draw but now that she has time, she has created beautiful artwork and sidewalk chalk drawings.  In these 10 days, I have learned that my middler loves to cook and has made cookies, soft pretzels, cheesecake and homemade marshmallows.  In my 40+ years, I didn't even know that homemade marshmallows were a thing.  My husband isn't traveling and has had time to play catch with my son and he's on the cusp of getting up on two wheels.  I love snuggling up with him to read.  Reading not for the sake of learning and checking off a reading log.  Reading just for the sake of reading.  All of these things happened because of our family quarantine.  I am not too proud to admit that I never saw these things before because we didn't have enough time.  Don't get me wrong, life was good, just busy.  Time is a funny thing.  To much of it can be a blessing or a curse. 
With all this time, I encourage you to choose joy.
Finally, as I mentioned before, we are all feeling overwhelmed with this situation.  We must not forget to take care of ourselves.  You've heard it for years on airplanes, put on your own mask before putting on my news feed.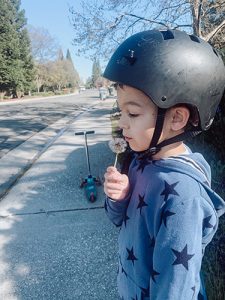 We are all trying to keep our families afloat, but we cannot get lost in the process.  Take time for you.  Find something you love that brings you joy and make it part of your daily routine.  For me, despite being tired, I wake up about an hour before everyone else in my house.  I enjoy my coffee (and silence) and I mentally prepare for the day.  For you it might be reading that book you heard about, locking yourself in the bathroom for a face mask and pedicure, trying a new recipe or tinkering in the garage.  This time should be about you.  If nothing else, the time will help you refocus and regroup. 
As you find your way to live yes through this uncertain time, share it on social media using the #WeLiveYes!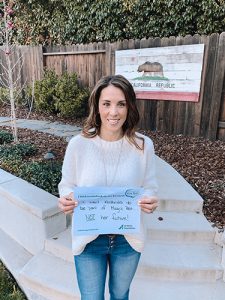 These are challenging times,  show yourself some grace.  Be kind to yourself and your family.  If it works for you to keep a normal Monday through Friday "work" week, stick with that.  If you can only make it two days before needing a break, that is fine too.  Find your routine, find your balance.  We will get through this.  As a family.  As a community.  As a nation.  As a world.
In our nation's current situation, charity organizations are being hit especially hard.  Now, perhaps more than ever, the Arthritis Foundation needs your support.
The Foundation's ongoing work is critical to helping those living with arthritis.  We must continue to support the mission in whatever way you are capable, whether that be a monetary donation, becoming an advocate or join
ing the Live Yes! Arthritis Network.
You can also share your story of resilience and how you are living your yes despite these uncertain times with this storybank. Share your story today!