"Anyone can live with a little soreness." 
For as long as Laniese Penner can remember, friends, classmates and complete strangers have been encouraging her to "buck up" and "push through" what they think is just a little stiffness and soreness. Little do they know what this talented high school senior experiences as a teenager living with arthritis.
Laniese participated in competitive gymnastics as a child. For several years, she complained about ankle and wrist pain. Her mom thought it was from landing poorly and the stress of tumbling. But pain was taking over Laniese's body, and she didn't understand why. Eventually, Laniese had to drop out of gymnastics. Then she was forced to quit piano lessons because it hurt to press the keys. On a summer vacation, she couldn't keep up with her family for even a quarter of a mile on their annual hike.
Finally, Laniese became very sick and was diagnosed with juvenile arthritis at age 9, just after starting the fourth grade.
"When I was first diagnosed, my friends told me their grandma had the same thing I did and didn't understand why I had to miss so much school. I felt so alone, like no one else my age knew what I was experiencing. At first, I just wanted to fit in. I would show up to school with red, swollen joints and would be in so much pain. Kids would ask me if I was okay. I'd tell them I was fine and that nothing was wrong. Today, I want every child with arthritis to know that they should never hide their pain. It's not something to be ashamed of, and it certainly doesn't define you."
What It's Really Like to Have Arthritis

As an Arthritis Foundation Advocate and aspiring rheumatologist, Laniese wants the world to know that arthritis is more than a little hurting or pain.
"People don't understand what arthritis is. It's not like having a twisted ankle that will heal in two weeks. It's constant and never goes away. Some days, the pain makes me so exhausted I could sleep for a week and still be tired.
"This past school year has been one of my worst years with arthritis. I got really sick for two months and people didn't understand how a sinus infection could be a reason to miss so much school. They don't realize one of the complications of arthritis is having a weaker immune system.
"My body was trying to fight the sinus infection and my arthritis at the same time. I was just flaring. I had to miss my first basketball game of the year. During English class, my hand was red and swollen after just five minutes of trying to write a short essay. People think it's just a little pain, but you're having surgeries and a hip replacement at age 16. That's not normal and shouldn't be happening."
Stronger Than Arthritis

Despite the pain arthritis brings, Laniese knows she is stronger than her disease. She refuses to allow arthritis to create limitations or put her in a box.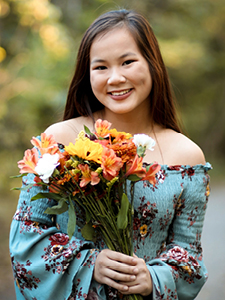 "Being an Arthritis Warrior means breaking through walls and stereotypes. People want to put you in a box and tell you what you can't do. But you can show the world you can play varsity basketball, run cross-country, be student council president, become valedictorian, receive a perfect score in music class, tell your congressman your story and much more. I am stronger than arthritis, and I'm just getting started."
Laniese credits much of of the determination and positive perspective she has today to her relationship with the Arthritis Foundation.
"For a long time, I felt so alone. After going to my first Arthritis Foundation conference, I realized there were so many other kids my age who were struggling like me. It was the first time I felt understood. One of the girls I met there is my best friend today. The most helpful treatment I've found for my disease is surrounding myself with people who I can share with and who I trust to ask for help. Without the Arthritis Foundation, I would not have the relationships I have today that have helped shape me into who I've become."
When Laniese graduates this year, she plans to go to college and major in biochemistry. She wants to pursue a career in the medical field because of what she has experienced with JA. "All of my health care professionals have played a huge role in my life. I'd like to go into medicine or research to help others with arthritis. I want to have the same impact on people that my doctors have had on me."
Break the Chain

Our
Let's Get a Grip on Arthritis campaign
debunks myths and reveals truths about arthritis — like the fact that it's more than a little stiffness and soreness. You can help end pain and suffering for the millions of Americans like Laniese who are living with arthritis by donating to the Arthritis Foundation. As little as $5 helps empower our arthritis community with the relationships, resources and research necessary to live their best life.
Sign up to receive email from the Arthritis Foundation
to be the first to hear about the latest breakthroughs, exciting events and inspiring stories.