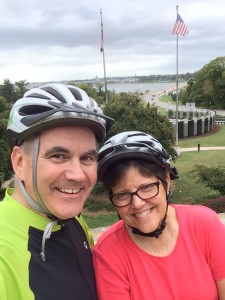 As
chair of the Arthritis Foundation's board of directors
and father of a child who was diagnosed with
juvenile arthritis (JA)
at an early age, Mike Ortman is no stranger to the debilitating effects of arthritis. Mike became involved with the Arthritis Foundation, along with his wife, Kate, after their son Daniel was diagnosed with JA when he was 11 years old. Now 27, Daniel, who spent most of the last two years homebound and unable to work, is still fighting to achieve everyday victories.
Over the years, Mike has watched many unique and awe-inspiring ideas the community has leveraged to conquer arthritis. From
Jen and Keagan's
1,400-mile odyssey to the JA Conference, to
Tom Baltes
' 16-state ride,
David Shuey's
inspiring coast-to-coast ride, and the
California Coast Classic
(CCC), Mike has consistently been drawn to the idea of bike riding to raise money for a cure.
"As Foundation chair, I strive to lead from the front," says Mike, "but I'm overwhelmed yet inspired by the accomplishments of so many others."
Although Mike and Kate donate regularly in the fight to find a cure, they wanted to do more.
"We've been trying to find a cure for our son for more than 15 years," says Mike. "Each year, for the annual Jingle Bell Run, our team,
Dan's Fans
, gives generously to the Foundation to help cure arthritis. We came up with the idea to ride from one end of the Florida Keys to the other, dubbed it 'The Keys for a Cure' and have had fun making it one of many initiatives to help us meet our Jingle Bell Run team goal of $35,000. Kate and I are hoping to raise at least $10,000 for the cause along the way."
Five Years in the Making
Mike came up with the idea of riding from Key Largo to Key West nearly six years ago during a family vacation. While visiting, Mike and Kate noticed a long, winding bike path that encompassed a large part of U.S. Route One, and became interested in making the trip, although neither had ridden regularly for a long time. Nor did they have the equipment to make the ride. But they continued to think about and prepare for the excursion over the next few years.
However, a series of mishaps stopped the Ortmans from making the ride. In 2013, after Kate purchased a new bike for the trip, she broke her shoulder. They postponed the trip until she could recover. They planned to try again in 2014, but this time, Mike had an accident when he slipped on ice and injured his knee, requiring major surgery to recover.
In 2015, after Mike's knee had healed, the Ortmans were finally ready to make their dream a reality. They rode more than 200 miles to prepare for the trip, now five years in the making. They practiced on well-known biking trails, including the Baltimore and Annapolis Trail and Orlando's West Orange Trail.
"Although we engage in Jingle Bell Run fundraising efforts annually, there is a unique sense of urgency this year," says Mike. "We want to take huge strides toward finding a cure. Daniel's recent struggles have been immense, inspiring us to work harder, dream bigger and start fundraising sooner."
The Ride Begins
On Saturday, October 10, the Ortmans took off on their week-long journey! Although the heat in the Keys was intense, they made an impressive start, despite an issue with Kate's back tire. No strangers to roadblocks, the Ortmans quickly fixed the wheel and their 100-mile journey was back on track.
"In the context of all the inspirational cyclists who support the Foundation so much, what Kate and I are doing pales in comparison," says Mike. "But we're determined to help the millions suffering like Daniel in any way we can. Far too often, we have to watch people we know and love say No to activities that others take for granted. But we hope Keys for a Cure is what we need this year to push past our fundraising plateau, promote the mission and raise the money we need to improve lives."
The Ortmans will wrap up their Keys for a Cure venture this coming weekend. To donate to Dan's Fans or to join their team for the Jingle Bell Run, please
visit their team page
. You can also keep up with Mike and Kate on their journey by visiting Mike's
"Keys for a Cure" blog

Update
On October 15, the Ortmans arrived at the end of their 100-mile ride. They conquered the Seven Mile Bridge (steering clear of many roadwork obstacles) and finished the remaining 40 miles to Key West safely, enjoying an array of wildlife and a beautiful panoramic view. They have now achieved $8,200 of their $10,000 fundraising goal, and need your help to exceed it!
You can help the Ortmans by
donating to the Arthritis Foundation cause during Arthritis Awareness Month
!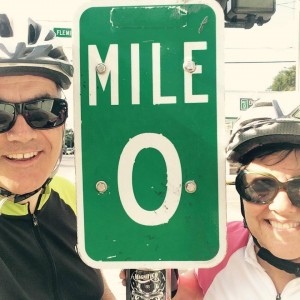 Related Resources: