Kenley Huss and her family are superstars in the fight against arthritis, holding nothing back in their personal quest to conquer it.
The Huss family first came face to face with the disease in 2010 when Kenley, then just over a year old, was diagnosed with oligoarticular
juvenile arthritis (JA)
. It wreaked havoc on her knees and several other joints, as well as caused unexplained fevers and pain that no toddler should experience.
Kenley, who'll turn 9 this summer, as well as her parents, Dongi and Jason Huss, and her younger brother, Brady, 7, in addition to family and friends, have gone all-in to fight JA. They've organized and hosted dozens of personal fundraisers on behalf of the Arthritis Foundation, including a golf tournament, BINGO games, card sales and a third-grade coin drive at Kenley's school.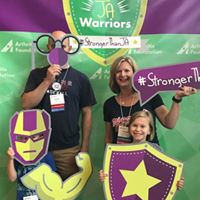 "As Kenley has gotten older, she has become more and more involved in fundraising," says her mother. "This year she hosted our first Kids for a Cause fundraiser at our home with manicures, Kenley's Krew headbands, jewelry and a stuffed animal station, along with prize drawings. The kids had a blast and were so excited to help raise funds."
The Huss family has successfully used social media to reach out to others and advance their mission. They capture and post videos and photos whenever the opportunity arises. One of their videos has drawn 2,400 views. And on
Facebook,
they have 427 friends and community members.
Dongi says social media is an easy and powerful way to persuade others to donate to the arthritis cause. "Those we reach out to get to see for themselves how dedicated Kenley is to curing JA. They know their contributions are going to worthy research and resources."
Kenley was thrilled to be named the
2018 Walk to Cure Arthritis
national youth honoree and continues sharing her story with others at her school, at Arthritis Foundation events, on local TV and in the newspapers. "It's about letting people know she is just like any other little girl, despite her disease," Dongi says.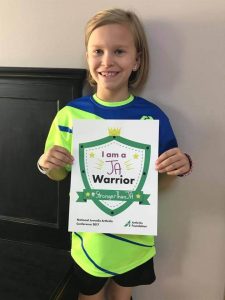 The Arthritis Foundation's 2018 nationwide Walk to Cure Arthritis season kicked off with the Twin Cities' Mall of America event on March 3. Kenley's Krew, with over 60 team members, raised more than $8,200. Kenley exceeded her own personal goal – bringing in $6,300 against her $5,000 target, mostly from her family's do-it-yourself fundraisers. She was also honored to accept a large check at a Minnesota Timberwolves game. In total, her team has raised almost $47,000 over the past six years.
"We start our fundraising eight months before the walk to take advantage of good weather for golf, vendor events and silent auctions before the year-end holidays," says Dongi. "People love to support our cause, but it's a bonus if it falls in line with their needs and interests at the best times."
Today, Kenley's arthritis symptoms are manageable, thanks to her effective treatments. Weekly injections and staying on top of things otherwise seem to be doing the trick. Beyond that, she and her family have found the support and camaraderie they needed through the Arthritis Foundation, made possible by contributions from people like you.
"This is a year-round, year-after-year commitment," Dongi adds. "We won't give up. We're going to help end this terrible illness, and we appreciate other families joining us."
Register for our upcoming Walk to Cure Arthritis 5K, where you can help raise funds for research, resources and a cure. Much more than just a walk event, it's something even bigger than arthritis itself! Register today!