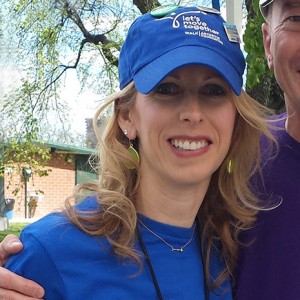 Oh, Massage Envy, how do I love thee? Let me count the ways! Massage Envy Spa has raised more than $3 million in events to help the 50 million Americans, including 300,000 children affected by the disease. I am one of those 50 million. I was diagnosed with
Rheumatoid Arthritis
sixteen years ago at the age of 26. With my diagnosis came fear and a misunderstanding that arthritis was an old person's disease. I didn't want to accept that I had arthritis. I was young and had always been an active person. I played sports my entire life and went on to play college basketball. How could I have arthritis?
I had to get to the point of acceptance. This disease wasn't going away and I quickly learned there was no cure. After a series of trials with different medicines that didn't work, I finally found a biologic that my symptoms responded to. I have been on that biologic for a long time and I am thankful that it works for me. While this drug allows me to lead a somewhat normal life, it is not perfect.  I typically encounter pain/swelling as I approach my next infusion (I get infused every 5 weeks). In the past I would just put up with it but a few years ago I discovered the benefit of massage. I used to see a massage as a treat and not a treatment, but that mindset has changed. I like to use massage as a supplement to my biologic and between the two, I can maintain a busy and somewhat symptom-free life! I am so happy that Massage Envy chose to partner with the Arthritis Foundation four years ago as their missions were strategically aligned.  Specifically, research has shown that routine therapeutic massages help alleviate the pain Americans suffering from arthritis endure each and every day. I am proof of that!
I often like to say "I have RA but RA doesn't' have me." I don't let the disease control me and I don't let the arthritis "no's" get in my way of living my life. I am a Champion of Yes! Because there is no cure, I desperately want to find one. I am just one person of 50 million that deal with this disease every day. Volunteering for the Arthritis Foundation helps me feel like I can make a difference. The Arthritis Foundation has invested a half a billion dollars in finding a cure and is the largest national nonprofit dedicated to finding a cure and ending arthritis pain. That's something I want to be a part of and have been for the past 11 years. I currently am the Chair of the National Walk to Cure Arthritis committee, I serve on our local Leadership Board here in Colorado and I am on our local Denver Walk to Cure Arthritis committee.  Massage Envy serves as a national sponsor of the Arthritis Foundation's Walk to Cure Arthritis and Jingle Bell Run nationwide, where local Massage Envy staff members share information about the benefits of massage therapy, provide chair massages and in support of the Arthritis Foundation's walks and runs. Massage Envy also hosts an annual fundraising event called Healing Hands for Arthritis (this year is on Wednesday, September 16) where $10 from every one-hour massage or facial performed on that day is donated to the Arthritis Foundation.
I am thrilled to be a Massage Envy member and look forward to my massages! Thank you ME!
Champion of Yes,
Kelli Schandel