When Kevin Gadd was born, roughly 51 years ago, an unexpected and unwelcomed guest joined his family.
"My mom was diagnosed with
rheumatoid arthritis (RA)
in her hands just after I was born," explained Kevin. "We called it Arthur, like Arthur-itis. We were always mad at Arthur because he brought pain to my mom and made it difficult for her to do the things she loved. Arthur was a bad dude."
Kevin's mom, Kay Steen, is a classically trained vocalist and pianist who performed throughout her life while teaching herself to play several other instruments. Having RA was especially difficult.
[caption id="attachment_723" align="alignright" width="251"]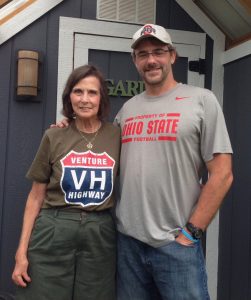 Kay Steen and Kevin Gadd[/caption]
"I love music," said Kay. "I played organ for my church and at the hospital for patients. I prayed for 20 years to be rid of Arthur."
Back in the 60's and 70's, little was known about arthritis and how best to treat it. Doctors tried all kinds of remedies, from gold shots to casts.
"I remember my mom doing weird things, like wax treatments where she would dip her hands into melted wax to get the heat into her body and
relieve the pain
," said Kevin. "She is a strong woman, so she kept searching for things that would help."
Kay's search for relief took her to the Cleveland Clinic where she had most joints in both hands replaced. Still suffering from the effects of RA, Kay agreed to take part in a clinical trial of an experimental therapy that was discovered in part through research supported by the Arthritis Foundation. The therapy tested the use of Methotrexate to control arthritis. It was so successful that
Methotrexate has become a cornerstone drug for treating RA
.
[caption id="attachment_724" align="alignleft" width="198"]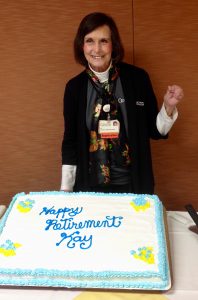 Kay Steen celebrating at her retirement party[/caption]
"It was a turning point," said Kay. "It helped me tremendously. They told me I'd never play musical instruments again. I proved them wrong!"
Kay has been in remission for the past 12 years and Kevin, well, he's found a unique way to honor his mom while helping the arthritis community. While at work one day, he overheard a co-worker talking about a car show that the Arthritis Foundation was hosting.
"I said, 'What's that about?' I was invited to the next planning meeting, I attended and I've been on the committee ever since," said Kevin with a chuckle.
Celebrating its 35
th
year, the Classic Auto Show and Cruise In is the largest and most successful car show in Ohio. This three-day event includes bands, brews, competitions, cruises and more cool classic autos than Henry Ford and the Dodge brothers could have ever imagined. The event has raised more than $2 million since its inception and featured more than 1,250 cars this past summer, drawing an estimated 6,000 attendees.
[caption id="attachment_722" align="alignright" width="300"]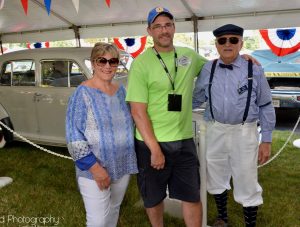 Ann Palmer, Kevin Gadd and Tom Penty at the 2017 Classic Auto Show and Cruise In[/caption]
"The main reason I do it is that we're raising a significant amount of money to help people like my mom," said Kevin, who is now chair of the event. "My mom can't open a jar of pickles. Everyone should be able to open a jar of pickles. Every little bit of money will go a long way to find new treatments, new ways to assist people who have arthritis, and maybe even a way to get rid of Arthur once and for all."
The 36
th
Classic Car Show and Cruise In will be held July 6-8, 2018 in Dublin Ohio. For information about the event, go to
www.Arthritis.org/AutoShow
or contact the
Arthritis Foundation's Ohio office
at 614-876-8200.
Related Resources: