From Kate Wingate
My name is Kate Wingate and I'm from Greensboro, North Carolina. On the outside, I look like a normal 13-year-old girl, but I have
juvenile arthritis (JA)
.  Arthritis is a disease that doesn't present in a way that you might think, and unless I'm having a flare, no one would ever know.  I've had JA since I was 18-months-old, so I can't remember what it feels like to not have pain in my joints.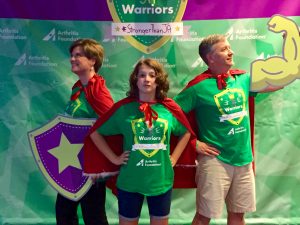 I've been involved with the Arthritis Foundation since I was 9, and it has completely changed my life.  It has allowed me to
meet other kids who have arthritis
, which lets me know I am not alone. The Foundation also helps me feel like I am fighting back by fundraising for a cure.
I am very fortunate to receive care at Duke Children's Hospital in Durham, NC, only an hour away from my hometown.  
There aren't enough pediatric rheumatologists in the U.S
. to take care of all the kids, like me, who have arthritis. Other kids with my disease can't get access to hospitals, or are never diagnosed.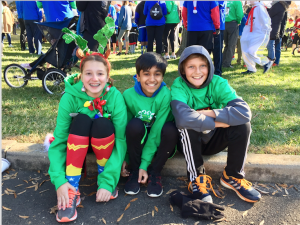 This is my fifth year doing the
Jingle Bell Run
. The first year, I participated in the Triad Jingle Bell Run in Jamestown, NC, naming my team
Kate's Caped Crusaders
.  Having a team full of my friends who come out to support me is the best feeling in the world! Over the years, I have raised more than $34,000 and want to do so much more.
As this year's Jingle Bell Run national youth honoree, I want to increase awareness about arthritis, raise money to help find a cure and help get a pediatric rheumatologist in every state. I am so grateful for the opportunity! Please join me in the fight against arthritis by
signing up for a Jingle Bell Run in your community
or, if you can't attend, supporting us through our Jingle in Your Jammies program.
On behalf of the 54 million adults and 300,000 kids who have arthritis, thank you!
Editor's Note: Jingle Bell Run is a festive and fun holiday-themed 5K run that his held in cities across the country. All proceeds support the Arthritis Foundation's mission to conquer and cure arthritis. Sign up for a run in your community at www.JBR.org.
Related Resources: