American chefs Ruth Graves Wakefield and Sue Bridges invented the chocolate chip cookie in 1938 and served them as a sweet snack and dessert at the Toll House Inn in Whitman Massachusetts. Little did they know the impact their invention would have on a little girl from Greensboro, North Carolina some 67 years later.
Kate Wingate was born in 2004 to her parents, Brook and Paul, in Greensboro, North Carolina. Kate was an active baby and toddler, playing with her toys and learning to walk.
When she was only 18 months old, Kate's knee swelled and her leg was unable to straighten. A trip to the local emergency room and several tests provided few answers and no explanation. The next day Kate was examined by an orthopedist and pediatrician.
"They suspected it was arthritis, but said it would be very strange for a child to have arthritis," said Brook. "The pediatrician didn't believe she had anything terribly wrong and referred Kate to a pediatric rheumatologist. The appointment was 5 months away. We couldn't wait 5 months to find out what was wrong."
There are more than
300,000 kids in the U.S. who have arthritis
, yet
fewer than 350 board-certified and practicing pediatric rheumatologists
. Eight states have none while 5 states have only one. For many kids who have arthritis, this barrier to care often results in long waiting times and extensive travel for needed appointments and treatment. Other kids simply don't get treated.
Kate's grandparents live in Chapel Hill, NC, fairly close to the Duke Children's Hospital campus where there are pediatric rheumatologists on staff. Learning of Kate's predicament, Kate's grandmother took action, baking a batch of chocolate chip cookies and hand delivering them to an acquaintance who is a cardiologist at the hospital. She explained Kate's situation and asked if anything could be done. Under the intoxicating influence of warm and tasty chocolate chip cookies, the cardiologist made some calls and pulled some strings. Kate had an appointment the next week.
Kate was examined by Consuelo Egla Diana Rabinovich, MD, professor of pediatrics, co-chief, Division of Pediatric Rheumatology.
"At this point we didn't know what was going on," said Brook. "Dr. Rabinovich walked into the room, examined Kate, then looked at us and said, 'We know what this is and we can help.' It was the first time we breathed a sigh of relief. You never know what the power of a chocolate chip cookie can do!"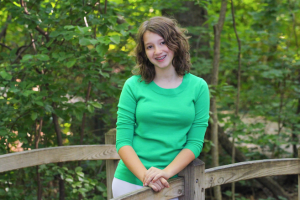 Kate was diagnosed with polyarticular
juvenile idiopathic arthritis
with enthesitis related arthritis and has been treated by Dr. Rabinovich ever since. She is the 2017
Jingle Bell Run
national youth honoree and hopes to increase awareness about the shortage of pediatric rheumatologists and raise money to find a cure.
"Thinking that some kids have to wait months for treatment, or drive to another state, or don't get treatment at all, that's ridiculous," said Kate. "I want to spread awareness that this is a problem and we need to do something about it."
Jingle Bell Run is a holiday themed, fun and festive 5K run/walk that is held in cities throughout the country. Participants tie jingle bells to their shoes, wear costumes or ugly Christmas sweaters and enjoy a day of holiday cheer. All proceeds benefit the Arthritis Foundation and people like Kate.
You can help Kate by joining or donating to her team, or by registering for a Jingle Bell Run in your community. Go to JBR.org for event locations and details.
Related Resources: