Among patient partners who reviewed
Arthritis by the Numbers
– a collection of verified arthritis facts and figures – was the Soler family of Georgia. Robin Soler has been active with the Arthritis Foundation ever since her younger daughter, Isabela, was diagnosed with
juvenile idiopathic arthritis (JIA)
. At the time she was one of the youngest children in the state to be diagnosed with JIA at just 12 months old.
Over the past 15 years, mother and daughter have seen about 50 different doctors and scores of other medical experts. Isabela has taken at least 20 different types of prescription drugs – consuming more than 15,000 pills in her lifetime, not including antibiotics and other normal childhood drugs. She has missed countless parties and playdates, and one recent semester had to skip 7
th
period 21 times for doctor's appointments.
Isabela's mother, Robin, is a developmental psychologist and senior scientist at the Centers for Disease Control and Prevention in Atlanta. Robin has had her own personal experience with arthritis, diagnosed with
fibromyalgia
when she was 26, though her
chronic pain
goes back to her mid-teens.
After reviewing arthritis statistics we've collected, Robin's main takeaway: "I am happy to know there is information out there, but I'm concerned about the pictures the numbers paint for parents. We and our children need to be hopeful."
Grim Picture Can Be Better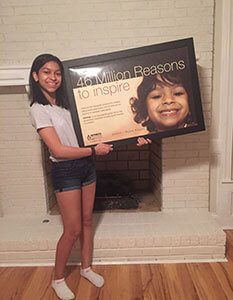 Robin says the evidence on children with arthritis is sad, dismal and frustrating because the disease manifests itself in so many ways. "Are common solutions possible for the masses?" she wonders. "Or maybe each child is so unique and the quest for a more common solution is impossible. I don't know. I know just enough to know I don't know enough."
"As a scientist," Robin continues, "I think we need a comprehensive science agenda to pull together what we know, what we need to know and what we need to know first. Then we need to translate that for parents in a compassionate and responsible way."
Currently, Isabela, now 16, copes with several conditions:
polyarticular arthritis,
fibromyalgia, uveitis in medicated remission, amplified pain syndrome,
clinical depression
, generalized anxiety disorder and
chronic fatigue
. She says she doesn't remember not having arthritis. "I've had to form my day around arthritis," Isabela says. "I've had to go on many medications, each with their own side effects and problems. I've had to try different diets. I try to push through at school. I already miss school enough for doctor's appointments. If I left school each time I was in pain, then I would never be at school."
Her older sister, Elena, 20, remembers watching Isabela drag herself around the floor because she couldn't crawl or walk. "My sister's diagnosis has been followed by countless pills, shots and blood tests," says Elena. "Bela is my inspiration. Even before she could walk, she was a fighter. She's my hero and my reason to be inspired."
Changes to Family Life
When their mother thinks about how
living with a child with arthritis
has changed the family's life, she thinks of three things: time, money and emotion.
"Everything takes time and patience," explains Robin, "from accommodating morning stiffness to getting back and forth to medical appointments." She says she has had to miss much more work than the statistics suggest, as well as miss out on fun things the family has had to give up.
Robin says treating the disease is costly, including upwards of 50 doctor's appointments in one year and pulling Isabela out of school because of chronic pneumonia. She had to take family medical leave and later hired a nanny. On top of those expenses are the regular infusions her daughter gets.
For the emotional piece, Robin says, "Early on I felt like I was riding a roller coaster. Parents of children who are newly diagnosed need to know this is going to be hard and serious, but it's also doable." Her advice? "
Don't do it alone.
Trust your instincts, but also learn your child's body and how to listen to your child in a different way. There will be highs and lows and you will get through them all."
And what does Isabella think? "Arthritis doesn't mean you don't move and just do nothing all day," she says. "Arthritis can inspire you to do more and get out there. This is just one bump in the road to success. I want to show others that just because I have arthritis doesn't mean I am weak."
We want to thank Robin and her family and all other patient partners who volunteered to review and comment on
Arthritis by the Numbers.
Related Resources: