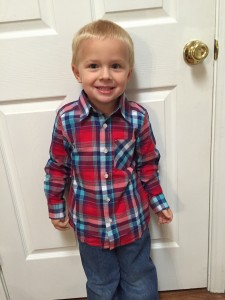 Like a lot of three year olds, Carson is still working on his "th" sound," so it should come as no surprise that when he talks about arthritis, it sounds more like "arfritis." What is surprising is that he has to talk about arthritis at all.
Diagnosed with juvenile arthritis (JA) when he was just 15 months old, Carson is just one of nearly 300,000 children who have JA. Carson's arthritis is polyarticular, which means it affects five or more joints. While Carson initially struggled mostly in his knees, he also has limited mobility and increased pain in his wrists. While you'd think that pain would be a clear indicator of arthritis, for Carson and thousands of other children, getting a diagnosis was not that simple. The myth that arthritis is only for older people persists.
"More than anything, we just spent months confused," says Chrissy, Carson's mother. "Arthritis wasn't even on our radar because like most people, we didn't even know children could have arthritis. It certainly wasn't one of the first things doctors suspected either."
Once Carson received his diagnosis, their next challenge was finding a doctor who could treat it. The Roses shocked to find out that the earliest she could get Carson an appointment with their local pediatric rheumatologist was eight months. Fortunately, they were able to drive two hours to Cincinnati Children's Hospital where they got an appointment within 30 days. There, they received a plan for treatment.
"We are really lucky that we have a doctor within driving distance," says Chrissy. "We can make it up there, see the doctor and be back home within the day. I've met people who have to travel several states away and spend money on hotels and overnight trips, just for their child to see the right kind of doctor."
To combat Carson's initial severe inflammation, his family and doctor agreed to take an aggressive treatment route, which included putting Carson under full anesthesia to give him steroid injections directly into his knees and wrists. He also was prescribed methotrexate, a chemotherapy drug that is also used to treat JA. Carson took oral methotrexate for a few months until the side effects began to outweigh the benefits of the drug.
"We would give Carson the methotrexate by mouth on Friday nights so that he'd have the weekend to let his body adjust," recalls Chrissy. "He never got used to it. He'd get sick, and he couldn't eat. Finally, we yelled mercy."
Many children and adults with arthritis try several medications until they find a combination that both controls their symptoms without causing significant side effects. Carson's doctor switched him to methotrexate injections, which came with a whole new challenge that a lot of children with JA face -- shots.
"He was on the same dose as he was before, but now we have to give him a shot once a week in his arm, thigh or bottom," says Chrissy. "We are so grateful to have another choice, but we had to learn how to give a then two year old injections. I was so scared of hurting my child."
Carson remains relatively pain-free with the help of methotrexate and the occasional ibuprofen, but like many children with JA, his immune system is compromised. This causes him to get sick often.
"I think for a lot of children with JA, being sick more than healthy is a way of life," says Chrissy. "We've dealt with pneumonia, chronic colds, you name it. Carson misses a lot of days of daycare, which means we miss a lot of days of work."
As Carson looks toward his fourth birthday, his parents continue to deal with uncertainty about his future -- how long the medicine will work, how well he'll grow and how they'll deal with missed days of school when Carson graduates from day care into official school.
"We're hopeful that we won't have to increase his methotrexate dosage as he grows, and that maybe he'll eventually not need it at all," says Chrissy. "But we're not naive. We know this disease is unpredictable."
Check back here to follow Carson's story as we build up to Giving Tuesday. Slated for December 1, Giving Tuesday is a global day dedicated to giving back and celebrating generosity. When you give to the Arthritis Foundation, you help support the Arthritis Foundation's commitment to helping the over 50 million Americans with arthritis say Yes. Give, so Carson can say Yes to childhood -- full days at school, medicine that doesn't hurt and less talk about "arfritis."
Related Resources: