Meet Kayla Abramowitz. Kayla is founder and Chief Kid Officer of
Kayla Cares 4 Kids
, a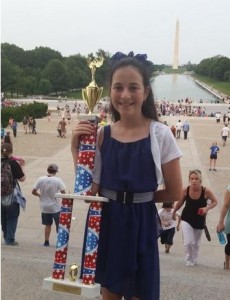 nonprofit organization that collects and distributes entertainment items for kids – including DVDs, gaming consoles, magazines and books – to hospitals and Ronald McDonald Houses all over the country in an effort to "help sick kids feel better one smile at a time."
Kayla came up with the idea for Kayla Cares 4 Kids after extended hospital stays of her own, in addition to her 9-year-old brother Ethan's numerous hospital trips due to chronic illness.  Kayla and Ethan both have Crohn's disease and juvenile arthritis; Ethan also has eosinophilic esophagitis, gastritis and gastroparesis, and uses a feeding machine.
When Kayla Cares 4 Kids started in March 2013, Kayla's original goal was to collect 100 DVDs to donate to Miami Children's Hospital, but a newspaper article about her in the Palm Beach Post brought in an overwhelming response of donations.  The organization has grown tremendously – with more than 6,500 DVDs, books, video games and electronics donated to hospitals, medical facilities and Ronald McDonald Houses in 40 states!
Just this week, Kayla won the Young Entrepreneurs Academy Saunders Scholars competition at the America's Small Business Summit in Washington, DC! While there, she also met with U.S. Reps. Patrick Murphy and Louis Frankel on Capitol Hill to advocate for arthritis. Kayla and her mother, Andrea, have been strong Advocates for arthritis and involved with the Arthritis Foundation for the past few years. Kayla will be attending the
Juvenile Arthritis Conference
this July.
To get involved in Kayla Cares 4 Kids, visit
www.kaylacares4kids.org
.