From Ethan Berkovitz
My name is Ethan Berkovitz, I am a 16-year-old high school sophomore  and my favorite sports are soccer and futsal, a type of indoor soccer with five players per team.  I play on the U.S. Youth Futsal 16-and-under National Team, and this summer I got to compete and represent our country in Costa Rica.  I have been playing soccer since I was 3 years old – and I have
juvenile arthritis
.
I didn't always have juvenile arthritis. It all started when I was 8 years old,  when I started having pain in my legs, hands and wrists. I thought I was having growing pains, but it got worse and worse in just a few short months. I couldn't even walk down the stairs, or to the bus stop, so my dad had to carry me.  Sometimes, I didn't make it to school because I didn't feel very well and I would get fevers, so I felt really sick.  I loved playing all kinds of sports back then with my friends and I was on lots of different teams.  I also would ride my bike, skateboard, rollerblade and much more.
All of a sudden, things that were easy for me became hard. My parents and I didn't know what was going on. I had to go to lots of different doctor's appointments and, finally, ended up seeing Dr. Stephen Spalding, a pediatric rheumatologist.  It didn't take long on that June day in 2009 for him to look at my 11 severely swollen joints and tell me that I have "Juvenile Rheumatoid Arthritis."
I remember all I cared about was if I could try-out the next week and play travel soccer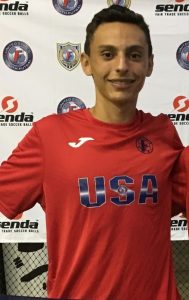 which I had been planning to do for a long time.  My parents asked my rheumatologist and he said, "Being active is important and Ethan should keep moving."  My parents said I could go to the try-out.  When I was in pain, it was my passion for soccer and futsal that kept me going. I didn't feel any pain when I was playing the sport I loved. I have wanted to play for the U.S. National Futsal Team for so long; it took me four years of try-outs and this year, I finally made the team!  I was so excited; it was one of the best days of my life! I learned that persistence in going after what you want and the things that are important to you is so important to making your dreams come true.
My family worked closely with my doctors to find the right medications for me. My parents were reading all they could about the disease and together with my doctor, they decided I should start taking
Methotrexate
. When I didn't get that much better, three weeks later, injections of a biologic were added.  I'm so thankful we were able to
find the right treatment plan
, after only a few months, my doctor told me, with a smile on his face, that I had no more swollen joints.  Some kids might not like getting shots, but it always gives me comfort to know that they are helping me feel better.
I always felt that having arthritis made me unique and special.  I never mind talking to people about this disease, it is so important to share our stories so that others can understand that even though I might look fine, but I don't always feel great.  That's part of the reason that I became a
Junior Ambassador for the Arthritis Foundation
. Junior Ambassadors are between 13 and 17 years old and it's our job to be the voice for kids with arthritis like me.
I am so thankful to be on medication, in remission, and pursuing my dreams. It was an honor to represent our country in Costa Rica on the futsal pitch this summer and help raise awareness for all of the kids in the U.S. who are
#StrongerThanJA
. The team of nurses and doctors, like my pediatrician, my two pediatric rheumatologists, my nurse practitioner have helped me so much along the way.
My family has been particularly lucky with our care, my pediatric rheumatologists are only 30 minutes away from our house.  But this isn't the case for so many kids with arthritis.
There are 300,000 children with arthritis in our country but only 350 practicing pediatric rheumatologists
, that's only 1 doctor for nearly 900 kids.
That's why I support the Ensuring Children's Access to Specialty Care Act, S. 989 and the newly introduced companion legislation H.R. 3767, which aims to increase access to specialty care for kids with chronic conditions like arthritis.Click here to encourage your Member of Congress to co-sponsor this bill to share this Junior Ambassador video with them!
Related Resources: