Jenna Becker takes no days off, and she wouldn't have it any other way. She practices, trains and plays softball or volleyball every day. No one would guess she has battled juvenile idiopathic arthritis nearly all of her life. They only know her for fast-breaking curveballs and hard-hit overhand serves.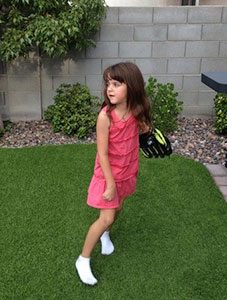 Today, Jenna's primary position is pitcher. She also plays first and third bases and is confident she can play any position her coaches need. "It's unusual for a player with JIA in their wrists and fingers to become a pitcher, but I wanted to prove that I could do it," she says.
Jenna was diagnosed at the age of 18 months. She had a swollen finger and was developing a limp.
"I don't remember a time when I didn't have JIA," says Jenna, who is now 15. "It affected my ankles, wrists and fingers. It hurt to get out of bed, and sometimes my ankles were so swollen I didn't want to wear shoes."
Jenna was prescribed a biologic medication and responded well enough to remain active. She had a slight skip to her run and some kids would shy away from wanting to hold her hand, but she was determined that JIA wouldn't hold her back.
It didn't. When she was 7, her father gave her a glove and ball and quickly discovered she had an affinity for throwing and catching. He signed her up for softball. She fell in love with it the minute she stepped on the field.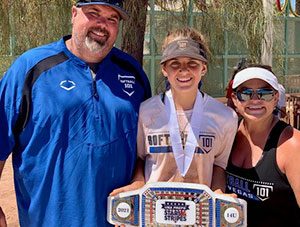 A careful balance of therapeutics, a healthy diet and regular physical activity helped Jenna to get stronger and manage the pain as she grew. Her parents kept sugary and processed foods and drinks away from her, and they iced her joints after physical activity.
Her family worried about her being on a biologic for so many years, but they saw results.
"I remember flying to UCLA Medical Center. We weren't looking for a second opinion about my condition, but instead what the treatment should be," said Jenna. "I was very young at the time, but one thing that I never forgot is what the doctor told my parents. She said, 'If you do nothing, this girl will grow up to have physical disabilities and possibly end up in a wheelchair. If you try [a biologic], there's a chance she will have a different outcome.'"
Almost immediately after receiving her first shots, Jenna's inflammation started to decrease. She remained on the drug for many years, receiving weekly shots at home. With her immune system weakened by the medication, Jenna got sick any time a family member or classmate got sick. But as she continued to grow stronger and stick to her regimen, she saw improvement. Instead of pain every day, now she only experienced it some days.
Her shots were eventually reduced from weekly to every other week to once a month and, finally, to none. All that remained was chronic inflammation and a painful trigger finger in her left hand where the pain was constant, made worse every time she played sports.
"No doctors would operate because of the JIA," says Jenna. "They gave me cortisone shots that didn't work. One told me I didn't need surgery; all I had to do was give up softball and the pain would go away. That was not an option."
Eventually, her family found a great hand surgeon. There were risks, but Jenna wasn't willing to give up on her dreams without trying surgery first. Once healed, for the first time in her life, it didn't hurt to play.
"Kids with JIA have to work twice as hard as everyone else to remain competitive," said Jenna. "We have to work just as hard when nobody is watching. There are days when it's over 110 degrees here but I'm outside hitting and pitching because it makes me stronger."
Her JIA has been in a clinical remission for five years now, and Jenna does not have chronic pain any longer. She has the occasional day when she feels stiffness and discomfort, but she does stretching exercises to keep her joints limber.
"When my dream of playing college softball comes true, I won't just be playing for me, but for all of the kids with JIA," said Jenna. "Arthritis may be a part of us, but it does not define us. Anything is possible if you believe in yourself."
—
BRYAN D. VARGO