Grandmother Plays Catch with NFL Player James Bradberry…and Inspires Him to Take a Stand Against Arthritis (and Put It on His Cleats)
James Bradberry grew up near Birmingham, Ala. with his mom and younger sister and grandmother nearby. Born with a love for sports and natural talent, he excelled at football in high school and then was recruited by Arkansas State University's football team. But his Southern roots called him home, so he transferred to Samford University and was later drafted by the NFL Carolina Panthers, starting 12 out of 16 games his first year.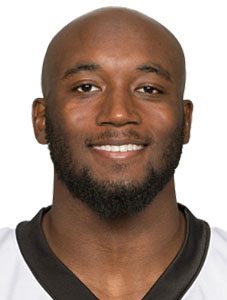 Although Bradberry does not have arthritis, the disease has significantly affected his life watching his grandmother struggle since he was a kid; "It's hard to watch her live in constant pain, often being sidelined by the pain, especially as she's gotten older." This is why James chose the
Arthritis Foundation
as his charity for the NFL's  "My Cleats, My Cause" campaign.
My mom worked on the weekends, so my grandmother would take care of my sister and me at her house. She did more than just "watch us." She would fix amazing food, play outside despite the heat and constantly entertained us.
When I think of the top moment with my grandmother, I always go back to throwing the football with her and being amazed that she actually had a pretty good arm.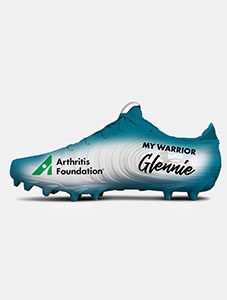 Yet, walking and getting in and out of the car has always been challenging. It hurts to see her not be able to do the things she loves. Even as a kid I remember feeling helpless watching her hurt. She was so vivacious in so many ways that seeing her struggle with everyday tasks didn't seem fair.
Her pain and struggles drove me to
get involved with the Arthritis Foundation
.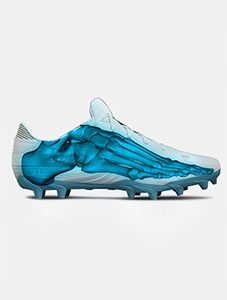 There are so many misconceptions about the disease, such as that only "old" people get it…but I know other professional football players who already have arthritis! Because I'm an athlete, I'm at a greater risk of developing
osteoarthritis
, which impacts more than 30 million Americans, due to wear and tear and injuries. Just one ACL injury (technically an anterior cruciate ligament rupture), increases a person's risk of developing post-traumatic osteoarthritis by 50 percent.
I'm proud to help spread the word about arthritis, proud of my career and especially proud to be able to help others. When I started playing professional football, I was able to help pay off my mom's debt. She worked incredibly hard to raise my sister and me, sacrificing a lot so we would have a nice life. Helping my mom was an incredible moment for both of us – for the first time, I felt like I could take care of her and take a lot of her stress away. It is gratifying to help someone else. Use your social power to help others – spread the word about arthritis with the
#LetsGripArthritis
hashtag and tag
@BradB_21
on Twitter or Instagram. 
Learn more about how to get involved with and support the Arthritis Foundation here.
Related Resources: