Until last summer, Ellie Pruitt was your typical little girl who loved to swing, draw with chalk on the driveway and feed the fish and turtles in the pond at the back of her house in Canton, Georgia, a suburb north of Atlanta. She was funny, smart and especially witty for a soon-to-be 4-year-old (and soon-to-be big sister).
But almost a year ago, Ellie started complaining about her legs hurting all the time and feeling tired. She started playing with her toys at the kitchen table because it was too painful to play on the floor. She couldn't sit with her legs and feet crossed, unable to bend her knees 90 degrees. Her parents thought it might just be growing pains.
In October, as she turned 4, Ellie went in for her regular check-up. Upon seeing and hearing about the inflammation and other symptoms, her pediatrician suspected
juvenile arthritis
(JA). In February, Ellie was finally able to see a pediatric rheumatologist, who confirmed the little girl has juvenile idiopathic arthritis that affects four joints: both knees, a wrist and a toe. She started taking a steroid as well as a weekly injection of methotrexate, a
disease-modifying antirheumatic drug (DMARD)
, which is one of the most commonly used treatments for inflammatory types of arthritis.
Like a new kid already
Three months later, the results have been amazing. "Ellie is like a new kid," says her mother, Heather, who teaches high school math. "There's been a huge improvement. She's in a good mood, she feels better, she runs and plays outside more than ever. The inflammation has gone down and her range of motion is almost back to normal."
[caption id="attachment_458" align="alignleft" width="660"]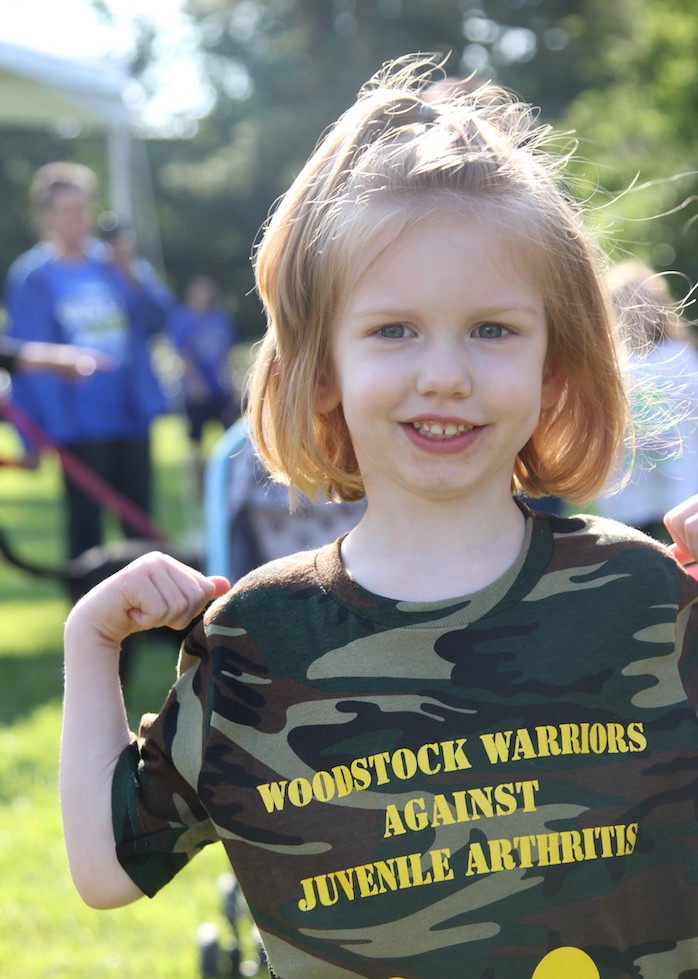 Ellie Pruitt at our recent Walk to Cure Arthritis in Atlanta, GA.[/caption]
After Ellie was diagnosed, Heather met Beth Parker, another JA mom who lives in nearby Woodstock. Beth's daughter, Abby, now 9, was diagnosed with oligoarticular juvenile idiopathic arthritis three years ago. "Beth told me I should 'like' the Arthritis Foundation on Facebook," says Heather. "The Foundation has a ton of information about JA, information you can trust and that helps you understand what you're dealing with. I've spent a lot of time on the
Kids Get Arthritis, Too 
web pages."
In short order, Heather became co-captain of the
Walk to Cure Arthritis
team Beth formed: Woodstock Warriors Against Juvenile Arthritis, representing four children in the immediate area who have JA, including Ellie and Abby. This year, the Warriors raised $5,000 to help cure arthritis, more than doubling their goal. On May 7, the Pruitt family joined their teammates and scores of others from the JA community at the event in Atlanta.
"We thought it was great and enjoyed it," says Heather. "It was a neat event with a lot of kids there." She adds that they look forward to doing the walk fundraiser again, and exploring more ways to get involved and connect with others, such as local family days, JA camp and the national
JA Conference
.
Heather says it's important to support organizations like the Arthritis Foundation so that the estimated 300,000 families in the U.S. living with JA and other childhood rheumatic conditions have the resources they need to help them navigate through life with a chronic disease. "You want to see your child live a full and successful life and not be limited by a disease like this," she says. "We want our daughter to have the opportunity to do the things she wants to do, not be limited because of joint pain and other complications of arthritis. We want to try to help get this knocked out for every kid who suffers from it."
Taking part in a scientific study of autoimmunity
Ellie is part of a scientific study investigating what causes autoimmune diseases because both of her athletic parents also have autoimmune disorders. While a senior in college, her mother was diagnosed with type 1 diabetes and continues on insulin therapy indefinitely. Her father (Chuck, a middle school social studies teacher) was diagnosed with lupus, an arthritis-related disease, at age 15. He had open heart surgery at 25 to replace the mitral valve, possibly infected in connection with his disease.
Both the lupus and the diabetes have been under control throughout the 11 years Heather and Chuck have known each other – and the Pruitt family lives a normal life. Back to normal, that is, now that Ellie's condition is diagnosed and she's getting the treatment she needs. And as normal as it gets with a 9-month-old addition to the family: Ellie is proud to be big sister to her baby brother, Luke.
Being a Champion of Yes comes naturally to Heather and her husband. "I've always tried to look on the bright side and not focus on the negative," she says. "When Ellie was diagnosed, we decided we didn't want this to define her. We try to always bring out the positive side of things, which sometimes is hard. But we don't want this to get her down; we've got to stay upbeat and be positive about it."