To fans of
Wonder Woman
,
Aquaman
and other superhero movies that she produced, Deborah Snyder might seem a little larger than life herself. Perceptive, energetic and determined, she has a career beyond most people's dreams, a lovely home near Los Angeles and a supportive family and husband, Zack Snyder, who's also her business partner.
But every superhero has a villain, and Deborah's is adult-onset Still's disease, a rare form of autoimmune arthritis. It left her with hip damage that made even walking difficult for years.
Seeing her relaxing with one leg tucked under her – something she never could have done a few years ago – it's impossible to tell that she has arthritis, or that she still takes medication and has had both hips replaced.
A Sudden Setback
In 2007, production was just beginning in Vancouver on the Snyders' film
Watchmen
. Deborah had been fighting a sore throat, achy neck and intermittent spiking fever for a few weeks before seeing a doctor, who sent her to the emergency room.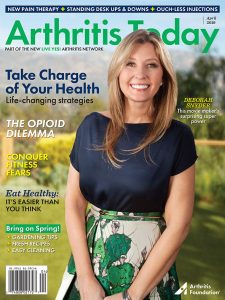 She spent the weekend in a hospital, where an infectious disease specialist told her she had either an infection around her heart or a condition she'd never heard of: Still's disease. About a month later, after more tests back home in California, the Still's diagnosis was confirmed.
"The scariest part was after the diagnosis," Deborah recalls. "I didn't know anyone who had this. I couldn't find anyone to talk to about it. I found this one website, and it was devastating."
The fevers eventually stopped, but joint pain kicked in "with a vengeance," she says. "Within a two-year period, I had severe hip damage."
But with her demanding career, she was determined to hide the pain. "As a woman in a leadership role, you don't want people to see your weaknesses. I got good at masking it," she says.
"She was in pain and she was scared, and it was hard," Zack recalls. "The hardest part for me was just seeing an athletic, full-of-life, physical person really crippled and debilitated by a thing that goes against their basic nature, their basic wiring. You don't know how to be. You do your best to be supportive."
"One of the Lucky Ones"
Deborah tried a number of medications, but nothing helped for long until the biologic medication she currently uses became available in 2011. After two weeks on it, her symptoms disappeared. Since then, she's had very minor flares only about three times, she says.
But the damage to her joints was already done. She still can't make a fist with either hand. And in August 2012 (just months before the birth of the youngest of their two adopted children, now ages 6 and 8), she had her first hip replacement, followed five months later by the second.
She says she's "one of the lucky ones" to have found a treatment that allows her to do "amazing things" – and she's not talking about her career achievements.
"Amazing things are being able to get on a mountain [skiing] again – it might be on a green trail, but it doesn't matter. It's being there for my kids so I can run and hike and go to the climbing gym with them," she says. "It's not the movies. It's those small things that are most important."
Author: Jill Tyrer