Nothing holds Daniel Ortman back. Not the arthritis that has challenged him for two decades. Not the major brain surgery he endured nine years ago. Nor any of the other obstacles he and his family have faced along the way.
In 2018, Dan vowed to cross the finish line of his Ellicott City, Maryland, Jingle Bell Run for the very first time. And he made it! "It was surreal," reflects Daniel. "I was starting to tire out after the first mile. But I said, 'I'm going to keep going and get to the other side.' And when I got to the end, I said, 'I'm not disabled anymore. I can do anything!'"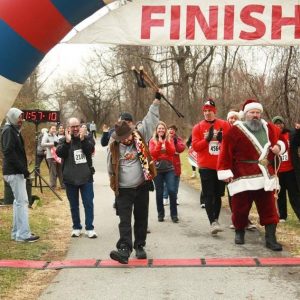 Daniel was diagnosed with arthritis at age 11, at first with ankylosing spondylitis and later with psoriatic arthritis. His arthritis was very aggressive. Finding and keeping an effective treatment proved difficult and took a heavy toll on his body. He had to use a wheelchair or walker for long periods and required assistance with many of the things most people take for granted. Daniel's worst arthritis flare occurred after the biologic he was on failed, causing excruciating pain that prevented him from enjoying something as simple as sitting down for a family dinner.
In 2011, the last time Daniel was physically able to participate in the Jingle Bell Run, he got halfway through the 5K course, but couldn't keep going and had to be helped to an awaiting car. Now 30, Daniel believes his sister, Theresa, who passed away unexpectedly a year ago, helped him make it over the finish line last year. "Theresa inspired me and so many others, so I dedicated my fundraising campaign in her memory." Daniel and "Dan's Fans" set their goal at $20,000 and brought in more than twice that amount, thanks to a matching gift.
At the Arthritis Foundation's Conference of Champions in November, Daniel had the pleasure of seeing his father, Michael Ortman, receive the organization's highest honor, the Charles B. Harding Award for Distinguished Service. Michael has been thoroughly engaged with our cause ever since Daniel was first diagnosed, including two years serving as the Foundation's board of directors chair.
Today, things are looking up for Daniel. He's pursuing his career in brain training, working to help others with disabilities, both mentally and physically, covering a wide range of disorders. He also works with those struggling with rehabilitation from arthritis. In addition, he's got an active social life. "I get to go out and socialize with people," he says. "There are a lot of pleasures all around me. I enjoy all my waking hours and have fun."
Daniel says he considers arthritis a gift and a chance to see the world differently. "You're only disabled if you let yourself be disabled," he maintains. "Arthritis is an opportunity to live an awesome life. You have to just take on the world and go with the good stuff."