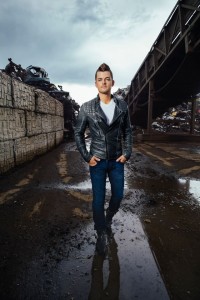 Nothing is more important to 23-year-old singer/songwriter Chase Bryant than his love of music or his commitment to his family. So when his 15-year-old cousin,
Emma Bryant
, who was diagnosed with
juvenile arthritis
(JA) at age 11, told Chase that she was striving to raise at least $20,000 to help find a cure for arthritis, Chase didn't hesitate to help – and the first annual
Music for Mobility Concert
was born.
Music for Mobility will take place on November 22 at the
Listening Room
in Nashville, Tennessee, featuring Chase and several of his musically-accomplished friends, including Brooke Eden, Carlye Pearce, Derreck George and Shane Minor. All of the proceeds from the event will go towards the Franklin, Tennessee
Jingle Bell Run/Walk
, an annual 5K sponsored by the Arthritis Foundation to raise funds that will support vital research and education programs to improve the lives of those with arthritis.
The concert will also feature an on-site auction, featuring several noteworthy items, such as tickets and meet-and greet-passes for a Kristian Bush show. Participants will also be able to bid on items via Ebay, even if they are unable to attend the concert.
"Family is so very important to me," says Chase. "I also want to educate people on ways to give others hope and to promote the understanding of an illness that may have misconceptions. A lot of people think that only elderly individuals have arthritis, but I've watched my cousin and my aunt suffer from the effects of arthritis for many years. I hope this concert will bring some awareness to a disease that also affects children."
A Family Bond
Chase recalls noticing Emma's arthritic symptoms when she was very young. The cousins lived in separate states, but would still play together at family gatherings. Although Emma was officially diagnosed with severe polyarticular juvenile idiopathic arthritis at age 11, she experienced severe arthritis pain from the time she was only two years old.
"Emma was always the type of little girl who ran around and tried to keep up with us boys," says Chase. "I noticed she had a hard time running, but I never knew why until years later."
Chase also watched their aunt, Jennifer Yaklin, struggle with arthritis, which made him realize how hard arthritis is for those who suffer with it. "Activities that I took for granted, like going outside in the cold, or just day-to-day things, seemed to take longer for her. She never looked like anything was wrong, but appearances can be deceptive."
Meanwhile, Emma went undiagnosed for almost nine years, suffering from severe inflammation and deformities in her joints. "I became more and more fatigued, and my friends wouldn't play with me because I couldn't keep up. At one point, I had to be carried everywhere and could barely eat or sleep."
When Emma was finally diagnosed, it was difficult for Chase to comprehend, especially after seeing the disease affect their aunt. "I thought, 'How could a kid get something like this?' Emma struggled to join in on all of the horsing around, and I saw that she suffered from pain on a daily basis."
Emma also admits that prior to her diagnosis, she was unaware that children could be affected by JA. "I didn't realize that kids could get arthritis too – and how serious it can be."
Working to Make a Difference
Since Emma's diagnosis almost four years ago, she and her family have become active with the Arthritis Foundation. They have attended the
JA Conference
twice, and this will be their third year participating in and raising funds for the Jingle Bell Run/Walk. This year, Emma has had several opportunities to speak at local events, educating others about JA and raising awareness.
The Foundation recognized Emma's accomplishments by naming her the 2015 Youth Honoree at the Franklin, Tennessee Jingle Bell Run/Walk. This only made Emma and her
personal fundraising team
, the "Fierce Fighters," want to try even harder to help champion the fight against arthritis.
"Each year, we try to do more to raise funds and expand awareness," says Emma. "When we tried to figure out how to do that for the 2015 JBR, it was a no-brainer. Music has always been a passion that runs deep for generations in our family, and our gatherings always turned into a music fest. We approached Chase with the idea, and he was incredibly supportive."
Emma is excited about the upcoming concert and the fundraising possibilities it will bring, and she remains grateful for her family's – and Chase's – support. "Growing up, you always hear that your cousins are your first true best friends," she says. "Our family was no different."
Be sure to
sign up for a Jingle Bell Run/Walk
near you and join Emma, Chase, and the rest of their friends and family on November 22 by
purchasing tickets online
for the first annual Music for Mobility concert!
Related Resources: