Charcandrick West, professional football player with Louisiana roots, gets real about what keeps him going, how no hurdle is too high and why he likes to win on and off the field.
Q1: When did you realize you wanted to play football professionally?
I don't remember the first moment I grasped a football, but the second I did, probably around age 6, I was hooked. I still remember being a kid, looking up from the field and seeing my mom and dad cheer me on. It was a thrill to know I was making people in the stands happy by giving the game my all.
I knew that I had the "it" factor – and my parents believed in me, too, which made all the difference in the world. My goal was to leave my legacy in my hometown of Cullen, Louisiana, and graduate to the "bigs."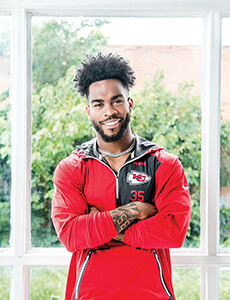 Q2: What's the toughest obstacle you've faced?
Unlike most kids, I was laid up in bed sick and in pain for a year, off and on. My grades started to slip, and the doctors couldn't pinpoint why I wasn't recovering. We traveled from hospital to hospital trying to find an answer. It ended up taking about a year and a half. By then, I was beat down and fatigued – mentally and physically – and had faced the toughest challenge of my life.
My diagnosis of
juvenile arthritis (JA)
– and new reality – was tough to swallow, and the pain from the disease literally sidelined me and rocked my confidence. At first, I thought, "What? I have an 'older person's disease'? This is crazy." My friends would laugh along with me, but deep inside I just wanted to be like them, not special or different.
Q3: What was it like getting diagnosed as a kid?
The diagnosis process was frustrating and scary. For a year-plus, my care team was stumped. They even thought I might have West Nile virus at one point. No one could give me answers and I felt like my sickness was making my family change their own plans and dreams. Everything was about getting me "better," and that was hard to accept. My parents were missing work and I was missing school. But my family's situation isn't that unique: Every year, 172 million work days are lost due to arthritis and other rheumatic conditions. I felt guilty about the entire situation. But my family was, and still is, amazing – a big shout out to my mom, who has always been my biggest fan!
But, I was lucky. The medicine worked, which isn't the case for everyone, and I returned to the field, the classroom and my friends. The diagnosis humbled me, because JA strikes 300,000 kids in the U.S. and more than 54 million adults. While I felt like it was only happening to me, I quickly realized there are so many people affected by this disease.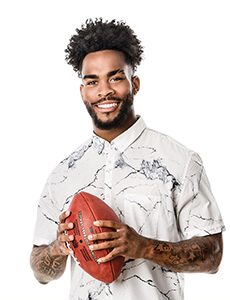 Q4: How did having arthritis make your road to professional football different from other players?
I played catch-up once I was diagnosed and put on medication, but that was just a small bump in the road. Professional sports associations don't care if you're "different" – everyone is graded the same and you need to be your best every day. I worked as hard as I could and challenged myself to not accept no as an answer.
I'm incredibly grateful for my life and the people in it. My motto is to wake up every day and feel happiness. But like so many people, I've faced some incredible hurdles. I've been brought to my knees at times, but these hardships – and my adversity – have helped me stand even taller and stronger than before.
Q5: What keeps you energized off the field?
When I wake up, I feel like the happiest person in the world. I'm not discouraged by my arthritis. I hit it head-on every day, and know I have an incredible support system of family, friends and fans.
What keeps me going off the field is inspiring people, especially kids, and showing them that, with a fighting spirit, they can accomplish anything. My passion – to spread happiness and help people believe they can conquer their dreams no matter what – is what led me to partner with the Arthritis Foundation and support their new cause campaign, "
Let's Get a Grip on Arthritis
."
The campaign's purpose is to open people's eyes and stop arthritis in its tracks once and for all. That needs to happen, not only because one in four Americans has arthritis, but also because the pain, inflammation and joint disfigurement it causes prevents many people from doing what they love or even performing everyday tasks, like walking up the stairs.
Join me and get involved at www.arthritis.org/LetsGripArthritis. See how you can be part of the #LetsGripArthritis social media movement, donate and learn more about the disease. It's a cause worth supporting.
Photo Credit: Photos by Kevin Garrett Photography
Related Resources: