Cathy McHorse is one amazing parent, inspired to get involved in the fight against arthritis after her son Grant was diagnosed at age 12 with juvenile arthritis. A simple newspaper article about Austin's Walk to Cure Arthritis prompted Cathy to make contact with her local Arthritis Foundation office in 2011, nearly three years after Grant's initial diagnosis.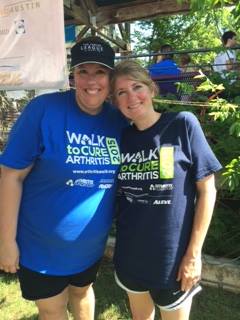 "When I realized the Foundation had a role in both advocating for more pediatric rheumatologists as well as funding scientific research for treatments, I knew this was an opportunity for me to take a stand and do something," says Cathy.
Since then, Cathy has become an integral part of Austin's Walk to Cure Arthritis planning committee and is chairing the event for the second straight year. In fact, Cathy is part of the team responsible for the tremendous growth and success of the Austin walk, helping to more than triple its revenue and number of participants as well as expand the size and scope of its planning committee to include corporate sponsors.
"We have significantly expanded our footprint and the impact of the Arthritis Foundation in Austin," says Cathy. "We now offer so much more than just the walk and are on the verge of launching our leadership board, hosting a regional camp and planning our first Jingle Bell Run next year."
Learn More About / Register for Walk to Cure Arthritis
Thank You to Our 2016 National Walk to Cure Arthritis Sponsors!