Arthritis is an occupational hazard in the military. Studies show that 1 in 4 servicemen and women has some form of
arthritis
; it's the second leading cause of medical discharge from the Army. Worse, many soldiers are young when they receive injuries that lead to osteoarthritis. That means more years of pain, disability and limitations; veterans often need costly, lifelong care for this progressively degenerative disease.
Sgt. Nicholas Steen is a living example. Now 38 and working in the private sector, he joined the Army right out of high school in 1994. By the time he was honorably discharged four years later, he had acquired leadership and lifesaving skills – and arthritis.
As an airborne infantryman in the 2nd Ranger Battalion, Steen was a member of the elite special operations forces. "My primary job in the Army was that of a heavy machine gunner, which meant I was either carrying a 30-pound gun or approximately 600 rounds of ammunition that often weighed over 50 pounds in addition to the normal load. As you can imagine, jumping out of airplanes with this type of weight often made me turn into an anchor as I crashed to the ground," Steen says. He also sustained injuries, including a broken collarbone and a shattered ankle.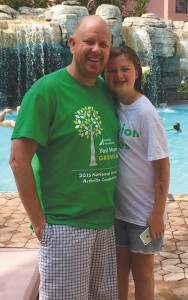 "I served my country proudly and would do it again," he says. "My concern is that my choices to help keep this country safe have now caught up to me [in the form of] the osteoarthritis that I have been diagnosed with."
Steen, who has a 30 percent disability rating, often feels pain that affects almost every joint, from his shoulders to his ankles. "My back, knees, ankles and feet are often in pain as I do my normal activities," he says. "I live with this pain daily."
The Department of Defense (DoD) has funded some arthritis research since 2010, but funding is not guaranteed. It could be, though: The Arthritis Foundation and American College of Rheumatology have been working to have arthritis added to a list of 20 specific diseases that receive
dedicated research funding from the DoD
.
Veterans like Steen have recently spoken on Capitol Hill to appeal for a $20 million arthritis research program that could, for example, help identify ways to reduce joint injuries and manage them so they don't result in arthritis. It might even help identify a cure for arthritis.
Related Resources:
Nationwide Accomplishments
120+
Legislative Wins nationwide since 2014
150K+
Advocates Speak Out
12
Legislative Days in 2019
300
2019 Advocacy Summit Participants