The use of her hands is incredibly important to Hannah Robison. As the reigning Miss Tennessee, her talent is playing the piano. As a chemistry major in college, she is constantly writing and using her hands in the lab. So when she developed pain in her hands, she initially chalked the pain up to overuse.
"I didn't think much about it at first, but then the pain moved from my knuckles into my wrists," says Hannah. "Then the doctor told me that no matter how long I'd been playing the piano, at my age, I still shouldn't be in pain."
After many tests and appointments, Hannah still doesn't have a concrete diagnosis for her pain. That hasn't stopped her from becoming a huge supporter of the Arthritis Foundation.
"This organization is incredibly meaningful to me because I have five close family members who have been diagnosed with this debilitating disease," explains Hannah. "I have a long line of people in my family who have rheumatoid arthritis or lupus, so it's important to me to raise awareness and funds for the Arthritis Foundation."
Hannah has raised more than $20,000 for arthritis and doesn't plan to stop there. She has worked as a volunteer intern for the Arthritis Foundation's Tennessee office, allowing her to be hands-on in the organization of their large fundraising events. Perhaps her most favorite role was as a session leader at Camp AcheAway in Nashville, a camp for children who have juvenile arthritis (JA).
"Having arthritis as a child is much different from having it as an adult," says Hannah. "I met one child who was angry over having to sit out during P.E. and another who lost all of her hair from her treatment. It's so heartbreaking, but it is wonderful to know that Camp AcheAway allows children who are living with the same disease to come together and become Champions of Yes."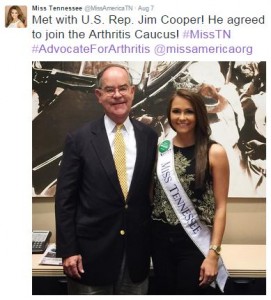 As Miss Tennessee, Hannah plans to use her position to continue to raise awareness of arthritis. In fact, Hannah has already met with U.S. representative Jim Cooper (D-TN), successfully urging him to join the Arthritis Caucus, a group of members of Congress who are committed to supporting legislation that benefits people with arthritis. After she competes in the Miss America competition in September, Hannah will begin touring her home state to further share her message of arthritis awareness.
"The biggest thing for me is to make people aware of how severe arthritis can be," says Hannah. "I also want to urge health care providers to not overlook arthritis when they're trying to find a diagnosis for a patient. Early detection and treatment of arthritis can make a world of difference. I feel so fortunate to have the unique opportunity to be a role model and to share this message."
Related Resources: